Apple Hand Pies..Lunch Box Friendly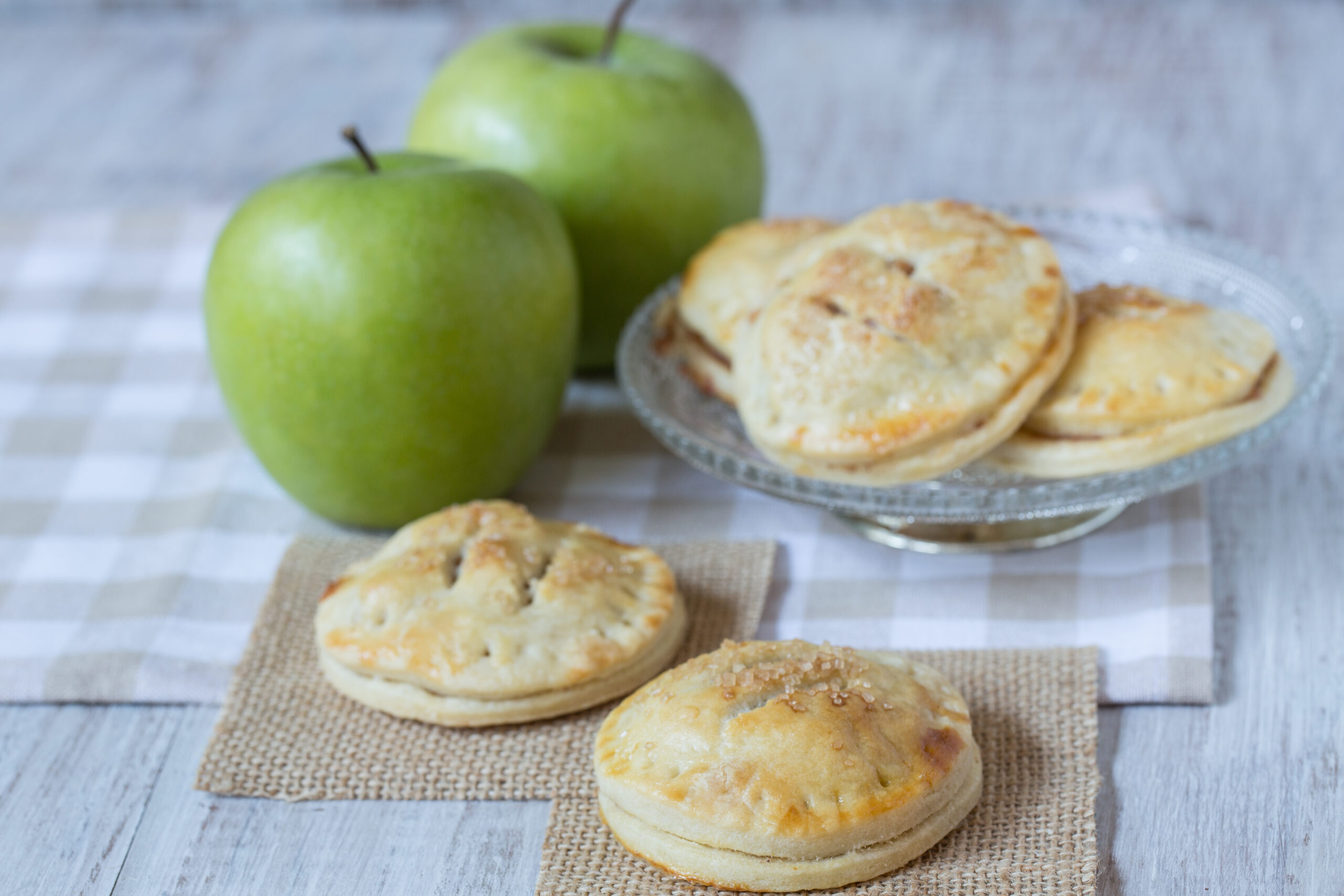 I remember as a kid that my parents had 3 apple trees in our back yard. As we picked them mom canned lots of jars of applesauce. We have access to this beautiful orchard with all kinds of fruit. We went out and picked peaches, pears and apples.
I have already made lots of apple pear fruit leather (so good) and dried lots of pears and apples. I just cannot get enough and neither can my family.
There are so many wonderful apple recipes I love to make, one is Apple Hand Pies. With a
sweet apple pie filling inside a buttery, flaky pie crust they are sooooo delicious. You can eat them for breakfast, for a snack, or add a scoop of ice cream for a delicious dessert.
No special cookie cutter needed to make these pies. Just use the top of a drinking glass or mason jar and press through the dough to get even circles.
Apple Hand Pies are a baked treat that is generally made with pie crust. The dough can be deep-fried or baked. I like the baked version as it is so much healthier for you!
You can keep it simple by using store-bought crust or make you own from your favorite recipe! You will need the following ingredients to make this irresistible little treat.
Pie dough…you can use store bought or
homemade.
Apples….
I use Granny Smith, Honeycrisp, or Gala.
Granulated sugar…for sweetener
All-purpose flour..for thickening
Vanilla extract…always double the amount.
Ground cinnamon & nutmeg……give your pie a delicious flavor
Egg & milk…to give your pie a pretty brown crust.
Butter….just a dab to give you hand pie a little bit more flavor.
MORE APPLE PIE RECIPES….
Crock Pot Apple Pudding Cake….from
Bunny's Warm Oven.
The Best Apple Crisp…from
Kid Friendly Things To Do.
The Best Apple Cake…from
I Am Baker.
Making these hand apple pies is so easy. This recipe also works great with peach, blueberry, and blackberry pie filling.
Now for the recipe….
Ingredients
Instructions
Preheat the oven to 375°F Line 1 to 2 large baking sheets with parchment paper.

On a lightly floured surface, roll the pie crusts to about 1/8-inch thick. Using a mason jar, or drinking glass cut out as many circles from the pie crusts as you can. You should get about 18 to 20 circles.

Combine the chopped apples, sugar, flour, vanilla extract, ground cinnamon, and ground nutmeg in a mixing bowl until fully combined and all of the apples are coated with the mixture. 

In a separate bowl, whisk together the egg and milk until well combined. Set aside.

Evenly distribute the apple pie filling between half of the pie crusts, making sure to leave some room at the edges. Place 1 to 2 pieces of the cubed butter on top of the filling on each pie.

Place the other half of the pie crust circles on top (use some water or the egg wash to dampen the edges and help seal them together if needed) then crimp the edges with a fork.

Brush the top of each pie with the egg wash. Sprinkle with coarse sugar if desired, then cut 2 to 3 slits in the top of each pie.

Bake for 18 to 22 minutes or until the pies are golden brown and the filling is bubbling. Remove from oven and allow to cool on a wire rack for 20 to 30 minutes before dipping in the glaze.
---