Boo-tiful Spiderweb Taco Dip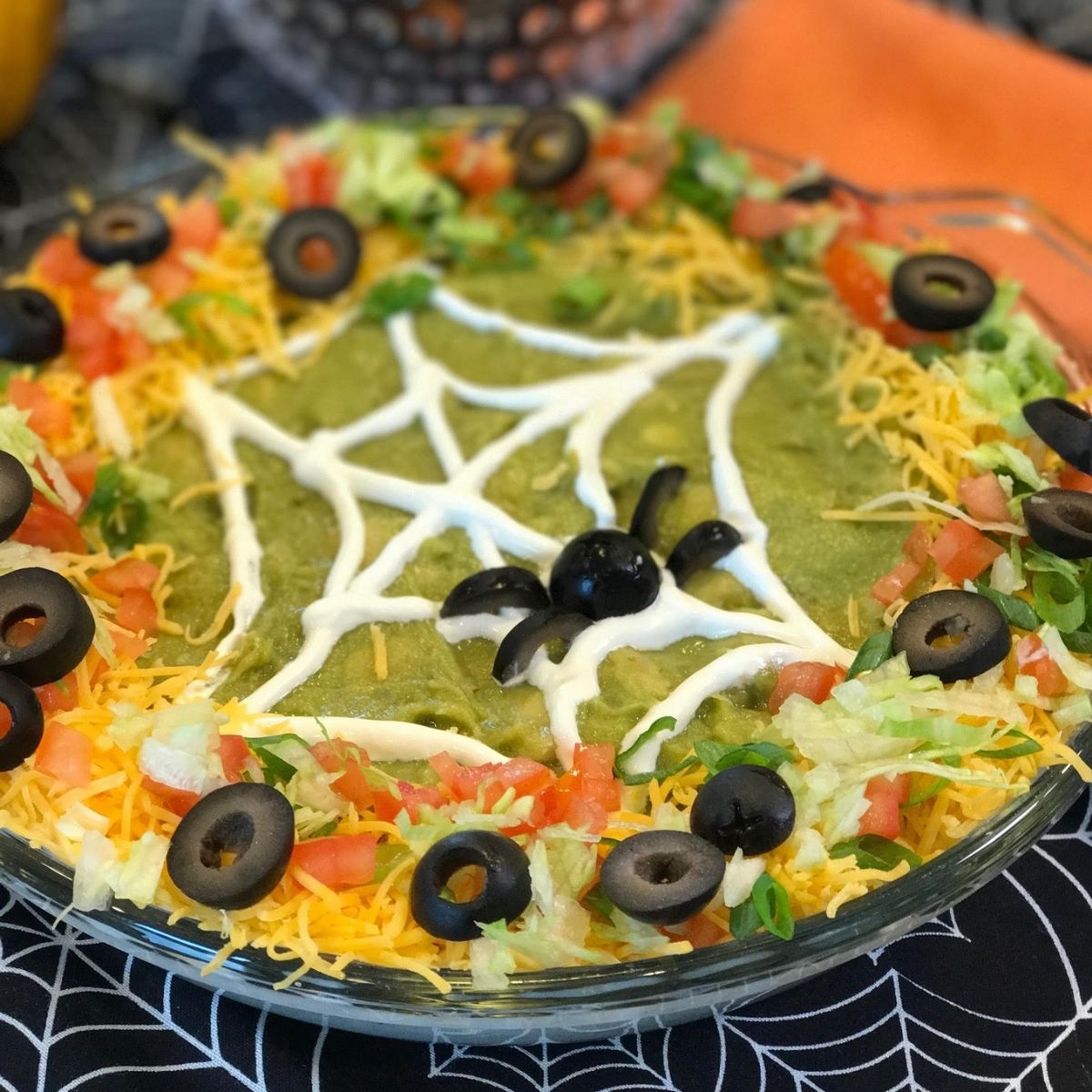 It is almost that spooky time of the year! If you are having a Halloween party then you NEED to try this Boo-tiful Spiderweb Taco Dip! It's a fun, delicious snack perfect for celebrating the season.
This creepy 7-layer dip is so easy to make. You can even use store-bought guacamole if you don't have time to make your own. For the spiderweb design, add sour cream to a squeeze bottle, then cut off the tip, and pipe a web pattern.
You will need the following ingredients…..
Refried beans….
1 16-ounce can 
Taco seasoning mix…..1 package
Sour cream…1 cup 
Salsa…1 cup
Shredded cheddar cheese…..
(or use a mix of cheddar and jack cheese, or Mexican blend)
Roma tomatoes…chopped
Green onions…..5 chopped
Sliced olives…. 
(sliced)
 – 3 ounces.
Guacamole….1 cup store-bought
Tortilla chips….only
3 ingredients to make adorable Halloween chips. 
Ingredients
16 ounces refried beans
1 pkg  taco seasoning mix
1 cup  sour cream divided
1 cup salsa
1 cup  shredded colby jack cheese
2 roma tomatoes diced
5 green onions
3 ounces  sliced olives drained
1 cup  guacamole
11 ounce bag tortilla chips
Instructions
In a small bowl mix the taco seasoning with the refried beans.

Spread the bean mixture evenly on an 11 inch plate getting close to the edge.

Carefully spread ¾ cup of the sour cream over the bean mixture.

Add the salsa very gently over the sour cream. If your salsa is really runny, drain off some of the liquid first.

Apply the guacamole mixture over the salsa. I put dollops of guacamole all over and then carefully spread them together so that the salsa doesn't come through.

Around the edge spread the grated cheese.

Top the cheese with sliced olives, diced tomatoes, and sliced green onions.

With the remaining ¼ cup of sour cream, put it into a squeeze bottle sour cream into a web pattern over the guacamole.

Top with plastic spiders. Serve with tortilla chips, potato chips, veggies, or pretzels.
---