Mini Chocolate Wafer Cake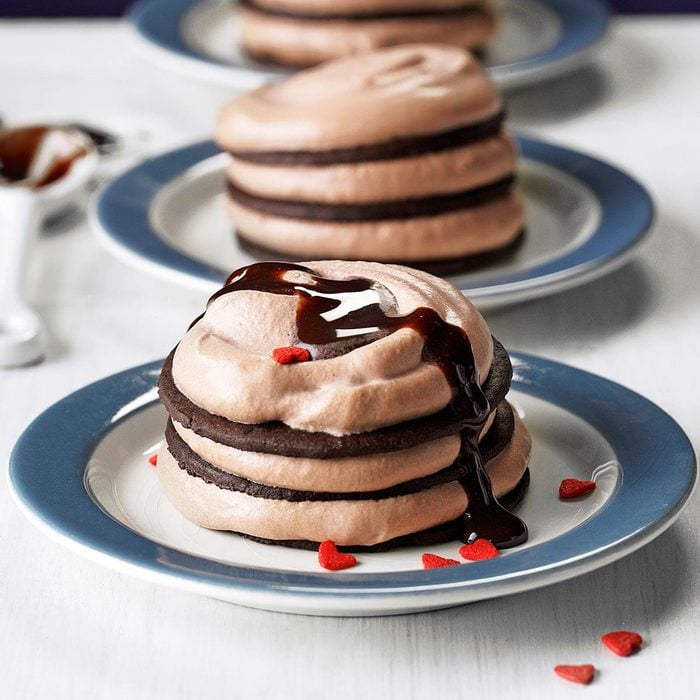 A Heavenly Valentine's Day Treat
Valentine's Day will be here in a couple of days and I have an amazing dessert your can make. This
Mini Chocolate Wafer Cake (or Icebox Cake)
is a simple heavenly no-bake dessert perfect for Valentine's Day. All you need are chocolate wafers and whipped cream! How easy is that?
This recipe so simple even your kids can make it. If you want to know where to find the chocolate wafers there are in the cookie section of your local grocery store. You can also order them from
Amazon.
MINI CHOCOLATE WAFER CAKE OR ICEBOX CAKE IS AN AMERICAN CREATION….
Wikipedia says that the Icebox Cake was first introduced in the U.S. during World War I, but that its popularity took off in the 1920s and 1930s. Different brands of products, from wafers to condensed milk to pudding, began printing "back of the box" recipes.
As long as one had an icebox in which to keep the whipped cream cake, it could be made on a hot summer day without turning on the oven or stove (in the era before air conditioning, which didn't begin to be installed in homes until the 1950s, becoming more common in the 1960s).
The cake is left overnight in the icebox; the wafers are softened by moisture from the whipped cream so the cake can be easily sliced.
In the original recipe, the wafers are sandwiched with whipped cream and stacked to form logs, which were laid side-by-side with more whipped cream to frost the exterior.
This is a definite keeper! 
Let's go make one for your family……
Ingredients
1 1/2 cups heavy whipping cream
3 tbsp baking cocoa
2 tbsp sugar
24 chocolate wafers
chocolate syrup
Heart-shaped sprinkles
Instructions
In a large bowl, beat the cream, cocoa, sugar and vanilla until soft peaks form.

Arrange eight wafers on the bottom of a foil-lined 9-in. square baking pan.

Spoon or pipe about 2 tablespoons cream mixture onto each. Repeat layers twice, making eight stacks. Cover and refrigerate overnight.

To serve, put on dessert plates. Then drizzle with chocolate syrup; top with sprinkles. YUMMY!!!!!
---