No Bake Strawberry Milkshake Cheesecake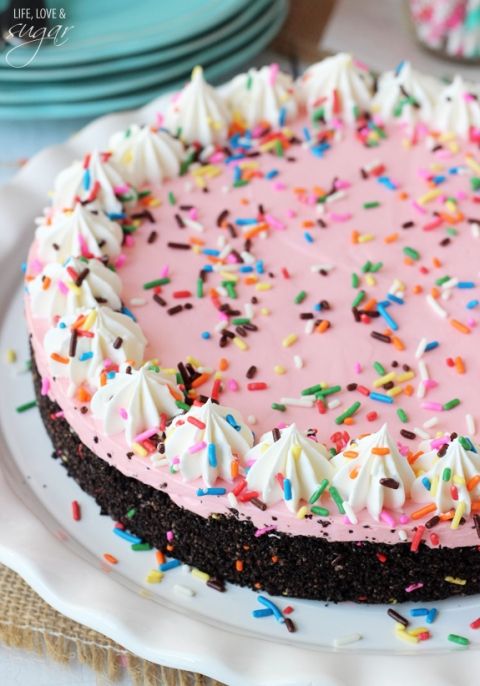 A Melt-In-Your-Mouth Cheesecake.
Looking for a Valentine's Day Treat? This recipe for No Bake Strawberry Milkshake Cheesecake Is going to make a magical dessert everyone is going to love. When you add Strawberry Nesquick you have a creamy delicious masterpiece that is perfect for Valentine's Day.Cheesecakes are baked custards -— a relatively simple balance of soft cheese, eggs, sugar, and a few flavorings –- typically atop a cookie or pastry base. Rich, creamy and decadent, cheesecake is enjoyed across the globe. The most famous version of cheesecake is probably the New York Cheesecake. Funny thing is that this famous recipe was just the unsuccessful result of an attempt to replicate a French recipe for Neufchatel. In 1872 the American dairy producer, James L. Kraft, failed the experiment and created the alternative cheesecake recipe made with cream cheese, registered as Philadelphia.This delicious cheesecake is a perfect treat for Valentine's Day!Grab your apron and let's head on over to my kitchen….
Ingredients
2 cups  Oreo crumbs
1/4 cup  melted butter
2 tbsp sprinkles
3 8 oz cream cheese, room temperature
1/2 cup sugar
1 tsp  vanilla
1/2 cup  strawberry Nesquik powder mix (or similar strawberry milk powder)
1 tbsp milk
8 oz  cool whip
additional Cool Whip for topping
sprinkles for topping
Instructions
Combine Oreo crumbs, melted butter and sprinkles.

Press into the bottom and halfway up the sides of a 9 inch springform pan. Set in refrigerator to firm.

Mix cream cheese, sugar, vanilla, strawberry Nesquik mix and milk together in a large bowl until smooth and well combined.

Gently stir in Cool Whip.

Pour filling into crust and smooth the top.

Refrigerate for about 5 hours or until firm.

Once firm, remove cheesecake from springform pan and decorate with additional Cool Whip and sprinkles.

Store in refrigerator until ready to serve.
---