Kid Friendly…Halloween Monster Doughnuts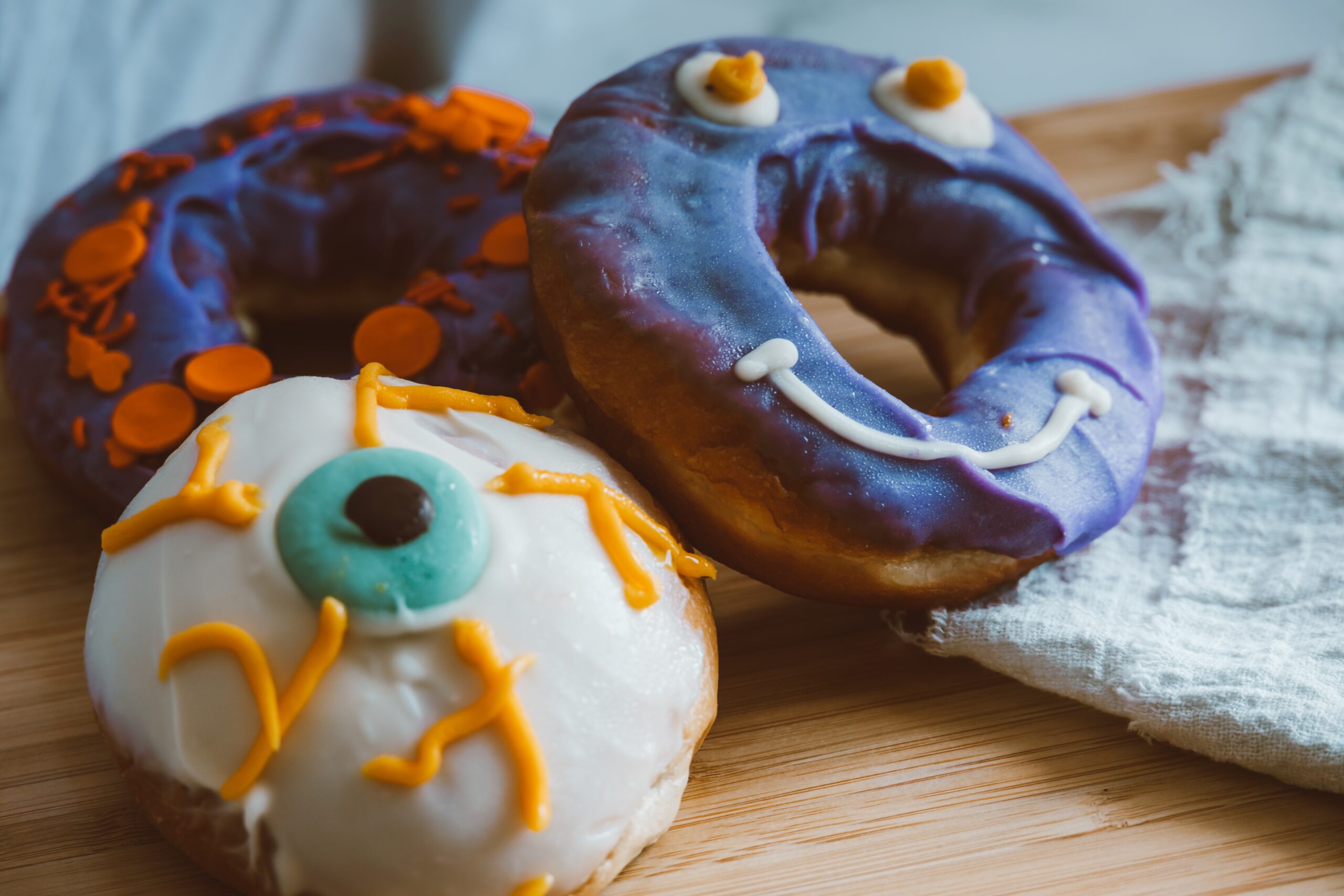 Halloween is one of my absolute favorite holidays, so many fun things to do. Our family dresses up in costumes, played lots of games, read spooky stories and broke a pinata filled with lots of candy. One of the games everyone loved was
Doughnut on a String.
(To play the Doughnut on a String Game you'll need a variety of doughnuts. Tie each doughnut on the end of a stringing hanging from a tree. Each party game player places their hands behind their backs (it's a no hands game!) and tries to be the first person to eat their entire dangling doughnut before others!)
What is your favorite doughnut flavor? 🍩🍂  Doughnuts are the perfect spooky treat for Halloween! If you need a fun recipe to make for your Halloween Bash, be sure to make this one. So delicious and your little Halloween Monsters will love these.
To make these you will need the following ingredients….
Eggs….just three.
Sugar…to sweeten the doughnut batter. (We do not use much sugar at our house because my husband is diabetic. I use honey so for 1 cup sugar I would substitute around 2/3 of a cup.
Milk…for a richer doughnut use whole milk.
Oil….Canola please and yes I know some of you are thinking that is a lot of oil, then replace half the oil with applesauce if you'd prefer!
Flour…all purpose flour.
Baking powder…so they will raise.
Vanilla..make sure your double what the recipe calls for.
Cinnamon….added taste.
To Make The Glaze…
Powdered sugar, milk, vanilla, food coloring choose one or all -purple, orange and green)
Check out some more Spooky Halloween Treats….
Bat Sugar Cookies from 
The Flour Handprint
Spider brownie bites from 
Tastes of Homemade 
Eye Love Chocolate Sugar Cookies from
An Affair From the Heart
Cake Mix Monster Cookies
 from Big Bear's Wife
These cute spooky doughnuts are a fun treat for Halloween.
Time for the recipe….
Ingredients
3 eggs
1 cup sugar
2/3 cup milk
2/3 cup canola oil
2 1/4 cups flour
2 tsps baking powder
2 tsps vanilla
2 tsps cinnamon
1/4 tsp salt
DONUT ICING
1 cup powdered sugar
3 tbsp water
1 tsp orange food coloring, or use different colors.
6 tbsp Halloween sprinkles
1/2 cup eye candies
Instructions
Preheat oven to 350°F. Lightly spray a donut pan with nonstick spray. Set aside.

Beat the eggs and sugar for 2-3. Add oil, milk and mix.

Sift the flour into a separate bowl and add the cinnamon, vanilla, baking powder and salt. Whisk to combine.

Add the dry ingredients to the wet ingredients & mix well. Fill the doughnut pan 3/4 way full in each cavity. Bake for 8–10 minutes

Whisk the powdered sugar, water and food coloring together to make the glaze.

Dip the donuts into the glaze. Top with Halloween sprinkles & candy eyeballs for the full monster effect!
---