How To Bake a Potato?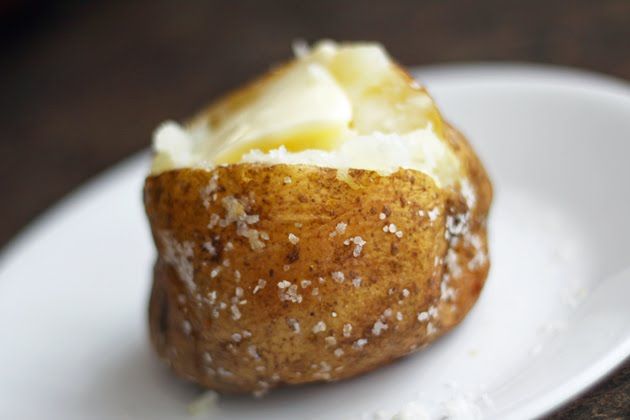 I remember eating a lot of potatoes growing up. (Must be because I lived in Idaho!) Does your family love potatoes? We love potatoes and my mother had to have potatoes of some kind everyday and she lived to be 90!
What's the Best Potato for Baked Potatoes?
Russet potatoes are the best for baking in the oven. The skins are thicker and the starchy interior has a sweet flavor and fluffy texture when baked.
Potatoes are a good source of fiber, which can help you lose weight by keeping you full longer. Fiber can help prevent heart disease by keeping cholesterol and blood sugar levels in check. Potatoes are also full of antioxidants that work to prevent diseases and vitamins that help your body function properly.
Poke
each potato with a fork all over before baking them. According to the 
Idaho Potato Commission
, potatoes are about 80 percent water. As your potatoes bake, some of that water converts to steam and exits through the tiny channels you poked in them. it delivers lighter, fluffier baked potatoes.
WHAT YOU NEED TO BAKE A POTATO….
When it comes to how to bake the perfect potato in the oven you only need
3 ingredients…..
Russet potatoes
Olive oil
Salt
Why do they put salt on the outside of baked potatoes?
You might think it's for flavor so you can eat the skin. It helps draw out the moisture of the potato, plus adds a nice flavor to the crispy baked potato skin.
If you're serving a crowd, create a baked potato bar at home and let everyone top their own! Our family loves this!
Any topping goes well with baked potatoes! Try bacon, shredded cheese, sour cream, chili, or butter with salt and pepper.
Ingredients
4  Medium Russet Potatoes cleaned and dried
2 tbsp Avocado Oil
1 tbsp  Sea Salt
Instructions
Preheat the oven to 425 degrees F and line a baking sheet with parchment paper.

Use a fork to poke various holes into the potatoes. Scrub the potatoes with the oil and then sprinkle the salt all over the outside of the potatoes and place them on a baking sheet.

Bake the potatoes for 1 hour – 1 hour and 10 minutes until the potatoes are fork tender and the skin is crispy.

Then cut, top with your favorite toppings and enjoy!
---