Homemade Rootbeer…a Halloween Favorite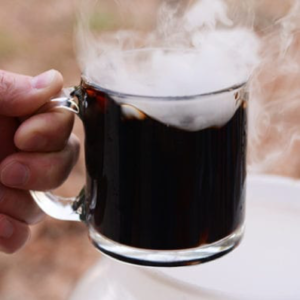 When we were raising kids we lived on a big farm out in the country. We never had trick-or-treaters on Halloween so we had a big big party and everyone dressed up. It was so much fun. But the best part was the kids when we made Homemade Rootbeer.
We played games and finally broke a pinata and everyone picked up candy in their sacks. The kids loved it and looked forward to it every year.
I love Halloween! At work, as manager of the kitchen, I suggested we make Homemade Rootbeer using dry ice. It was so fun to watch the residents faces, (and my kids faces when we made it at home) as the dry ice carbonates the mixture. It looks like a witch's brew as it bubbles up.
This recipe I am sharing is from my sister that has been used many times through the years. It is so delicious and easy!
Just a tip…. Make sure you use thick leather gloves when handling dry ice. The store you purchase the dry ice from will put the dry ice in a brown paper bag.
Then when you bring it home just break it up with a hammer while it is still in the bag. Keep your gloves on and dump it in the container you are using and watch the magic appear.
After 15 to 20 minutes (stirring occasionally) the root beer will be carbonated just right!
Make sure before serving all the dry ice is gone.  Consuming dry ice will cause severe internal frostbite!
Only 4 ingredients is all you need for Homemade Rootbeer….
Water
Root beer extract
Granulated sugar
Dry ice
Let me share a few other drinks you can make for Halloween Fun….
Hocus Pocus Punch…..
Sherbet sprite and peach mango juice — yum!
Fanta Pumpkin Punch
… It tastes like a Creamsicle popsicle!
Halloween Hot Coco....a fun and spooky treat!
Make Homemade Rootbeer a Halloween Tradition this year!!
Ingredients
4 gallons water
2 ounces bottle of Root Beer Extract (it usually is in the baking isle.
4 lbs granulated sugar (equals 8 cups)
5 lbs dry ice
Instructions
In a 5 gallon cooler, add 3 gallons of water and 1 bottle of root beer extract.

Add the sugar, and stir with a very long spoon.

Do not touch the dry ice (it will burn you if you touch it) add the dry ice to the cooler. Let it bubble for 15-20 minutes (until dry ice is gone).

 Make sure to add this Home Made Root Beer recipe to your recipe collection.Enjoy!!
---