Pumpkin Dump Cake…Easy Fall Dessert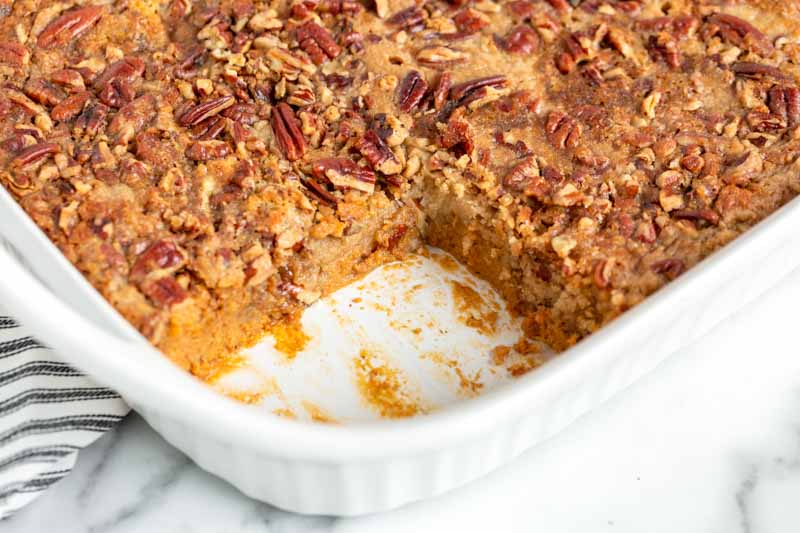 I've been making this recipe for years and it's always a hit! It is so easy and delicious! I think you should make pumpkin recipes all through the year. This Pumpkin Dump Cake is a tasty dessert that will be a family favorite.
A dump cake is an easy dessert recipe made with a store-bought cake mix that is sprinkled on top before baking.
SOOOO GOOD! 
You will need the following ingredients for this delicious dessert….
Canned pumpkin…. Make sure you get the plain canned pumpkin, not pumpkin pie filling.
Evaporated milk
Sugar
Pumpkin spice….. The best thing about fall!
Vanilla
Eggs
Chopped pecans 
Butter
If you love pumpkin as much as we do let me share a couple of other recipes I know you will like…
Pumpkin Earthquake Cake
Cake Mix Pumpkin Muffins
Pumpkin Crunch Cake
Easy Pumpkin Scones
Now let me show you how easy it is to make….
Ingredients
30 ounces pumpkin puree (do not use pumpkin pie filling)
16 ounces evaporated milk
4 large eggs
1 cup granulated sugar
2 tsp cinnamon
2 tsp pumpkin pie spice
1 box yellow cake mix…. You could swap out different types of boxed cake mix if you prefer. A spiced cake mix would be delicious!
1 cup salted butter
1 1/2 cups walnuts
whipped cream or ice cream
Instructions
Preheat oven to 350°F and set aside a 9×13-inch baking dish.

Mix together the pumpkin, milk, eggs, sugar, and spices and pour it into the baking dish.

Evenly sprinkle the dry yellow cake mix over the top of the pumpkin puree mixture.

Cut the butter into thin slices and cover the top of the cake with them.

Sprinkle walnuts or pecans over the cake and bake for 1 hour. Serve warm with ice cream or a dollop of whipped cream.
---