Let's Make Some Witches' Brooms…Only 10 Minutes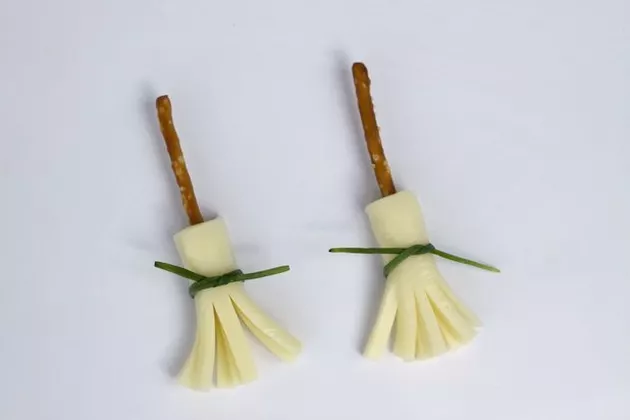 Our Family loves the holidays. We loved Halloween. We always had a big Party with costumes, decorations, games, and having the kids break a pinata at the end and everyone grabs for candy.
I decorated our Country Kitchen and the table was so fun. Halloween everything with a table cloth, paper plates with pumpkins on them, plastic gloves filled with popcorn candies and a spider ring at every place setting. Candles and spiders all over the table so many fun memories.
Of course I made lots of fun spooky food. I cooked stew in a big pumpkin with bubbly Homemade Rootbeer, scones with honey butter, a special
Halloween Jello
, finger witch cookies, and so much more. We never had trick-or-treaters because we lived way out in the country, but people heard about our parties and would stop by.
Then I went back to work and I wanted to do some fun foods for the residents there every holiday season. I worked at a Alzheimer's facility for 13 years and ran the kitchen. This was some of the best years of my life.
When our activity director dressed them up and got them ready we had a huge table fixed with all kinds of good things to eat. These Witches Brooms were a perfect finger food.
It only takes 10 minutes to make and I love that, so let me show you how…..
Equipment
1 Cutting board

1 paring knife
Ingredients
4 cheese sticks
8 pretzel sticks
Instructions
Using a paring knife cut the cheese sticks in halves. (One piece of cheese makes two cute brooms.)

Using a paring knife, score the cheese twice, about halfway through the cheese lengthwise. Rotate and repeat. You should have six pieces of "straw" when you're finished cutting. Then just fluff the "straw" outward .SO CUTE!!

Tie a piece of fresh chives around the cheese and insert a pretzel stick.

You need to serve your Witches' Brooms right away or store in a sealed container for up to 24 hours in your refrigerator.

Adapted from eHow. Have a Fun Halloween Party this year!
---