Crescent Mummy Pizzas For Halloween Fun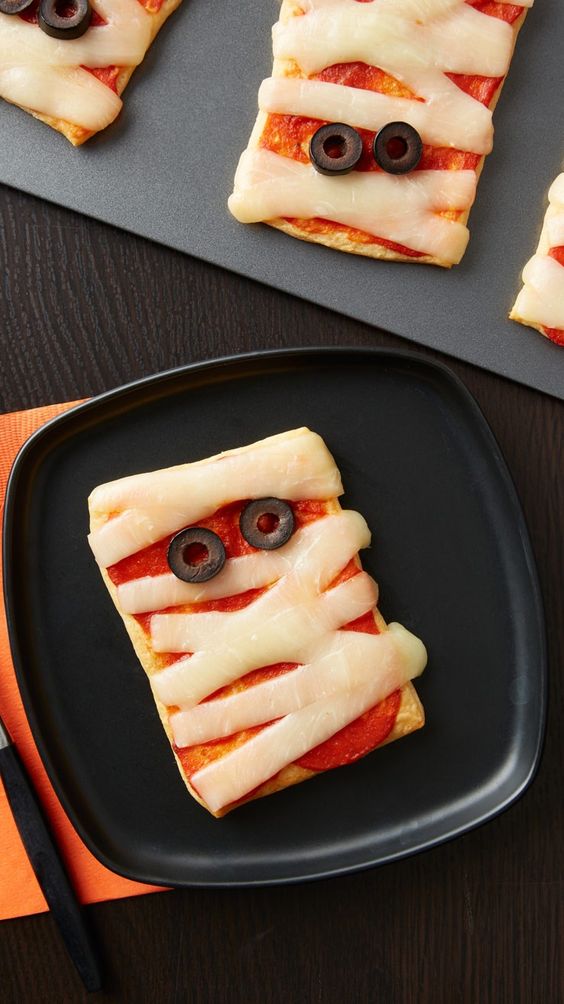 What kind of foods does your family eat for Halloween?   These tasty Crescent Mummy Pizzas are really easy to make and such a fun and deliciously ghoulish meal or snack for Halloween. You can even put them into a lunch box for a spooky surprise for the kids at lunchtime. All your little spooks will love them. Crescent Mummy Pizzas are a fun and easy food the kids can make for Halloween! There isn't an easier way to get a fun dinner whipped up for Halloween than this. A super-simple way to wow your favorite goblins, even on the busiest weeknight.Let's get cooking….
Ingredients
1 can 8 oz refrigerated Original Crescent Rolls (8 Count)
1/3 cup pizza sauce
8 slices mozzarella cheese
16 ripe olive slices or mini pepperoni slices, for eyes
Instructions
Heat oven to 375°F. Spray large cookie sheet with cooking spray.

Separate crescent dough into 4 rectangles; press seams together. (If using crescent dough sheet, unroll and cut into 4 equal rectangles.) Using pizza cutter or sharp knife, cut each rectangle crosswise in half. Place crescent squares on cookie sheet, and press out slightly. Bake 8 to 9 minutes or until light golden brown; remove from oven.

Spread about 2 teaspoons of the pizza sauce on top of each crescent square. Top each with 8 strips of mozzarella cheese, alternating and overlapping strips to look like mummy bandages. Add 2 olive or pepperoni slices to each for eyes.

Bake 2 to 3 minutes longer or until cheese slightly melts. Serve warm with sauce for dipping.
---