The Best SALSA Using Canned Tomatoes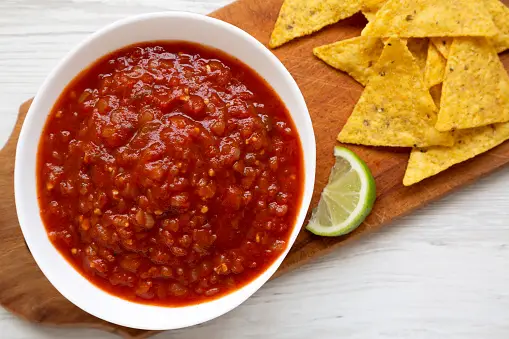 Homemade salsa is so delicious. I use to can jars full of it but not so much anymore. When there are just two people in the house we cannot go through that much in a year. The kids come over a lot but we still have leftovers when it is time to can again.
You can get canned salsa at your local grocery store, but I love that this homemade recipe that calls for canned tomatoes. You can make it anytime you want.
I have never been a big cilantro fan like so many other people but I make some without and some with cilantro. My family loves the flavor with it!
When choosing which tomatoes to use get the ones with with "no-salt added!" We have to do that anyways because of our health issues. We really love Fire roasted tomatoes! You are going to make this Salsa over and over again.
INGREDIENTS….
Add all ingredients to a high speed blender or food processor.
Canned Fire Roasted Tomatoes.
Onions
Garlic
Jalapeños……For 
mild flavor
, remove the seeds and membranes from both jalapeños.
For 
medium flavor
, remove the seeds and membranes from one jalapeño and leave them intact in the other.
And for 
hot flavor
, leave the seeds and membranes intact in both jalapeños.
Cilantro
Lime Juice
Honey
Spices
Skip the store-bought jar and make this homemade salsa instead.
Serve with tortilla chips and enjoy!
Ingredients
2  (14.5-ounce) cans diced fire-roasted tomatoes, one can drained & one can with juices
1/4  small onion
3  large cloves garlic

2

jalapeños 

1

 bunch fresh cilantro
Juice from half of a lime
Small squeeze of honey

1

 teaspoon salt
Freshly ground black pepper, to taste
1/2 tsp  ground cumin
1/4 tsp  chipotle chile pepper powder, optional
Instructions
Combine all ingredients in the bowl of a food processor or in a blender. Pulse for 30 to 60 seconds or until you obtain the desired texture.

Transfer to a tightly sealed container and chill in the refrigerator for at least one hour before serving, to allow the flavors to blend. Store in a sealed container in refrigerator for up to a week.
---