Homemade KIND Bars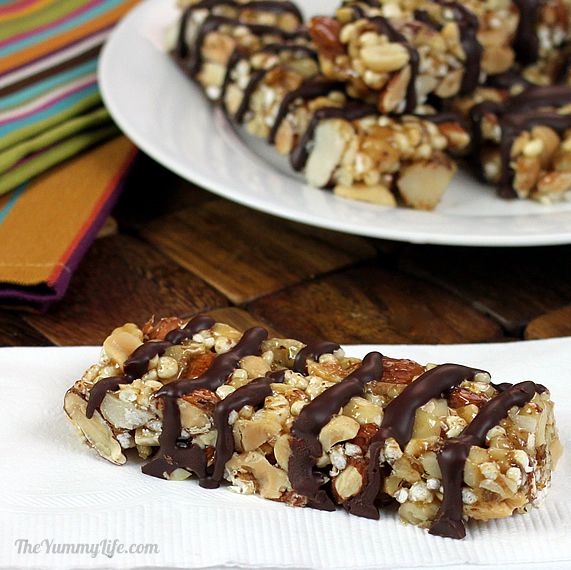 Are you a fan of KIND bars? I have hypoglycemia which means I have to eat every few hours to keep my blood sugar normal. Can I just say I get so tired of cheese and crackers! My brother has it too and he told me about the KIND BARS. They are low in sugar which is a great thing. We can have natural sugar but not that bad kind. Kind Bars can be pricey so this homemade recipe makes a yummy alternative and so much cheaper. These Homemade KIND Bars are a healthier copycat recipe! With fewer than 175 calories per bar, they are the perfect Grab-and-Go Breakfast. They are crunchy, salty-sweet and drizzled with chocolate.They do not need refrigeration and they hold together like the real Kind Bars. They are so loaded with protein and fiber you will feel fuller longer.INGREDIENTS YOU WILL NEED…AlmondsDry Roasted PeanutsWalnutsChia SeedsPuffed Rice Cereal (Like Rice Krispies)Flaxseed MealBrown Rice SyrupWhite Sesame SeedsVanilla ExtractCoarse Sea SaltDark Chocolate
Ingredients
1 1/2 cups whole unsalted almonds (7 1/2 ounces)
1/2 cup  unsalted walnuts (2 ounces)
3/4 cup unsalted dry roasted peanuts (3 1/2 ounces)
1/4 cup  puffed rice cereal (like Rice Krispies)
1 tbsp  flaxseed meal
1 tbsp  white sesame seeds
1 tbsp  chia seeds

1

tsp  vanilla extract
1/4 cup  brown rice syrup
1/2 tsp  coarse sea salt
CHOCOLATE DRIZZLE (OPTIONAL)
3/4 cup  dark chocolate chips or chunks
2 tsp coconut oil
Instructions
Heat the oven to 325°F. Line an 8×8-inch baking pan with parchment paper that hangs over the pan on 2 sides to form a sling. Coat the pan and a large bowl with cooking spray.

Place the almonds and walnuts in a single layer on a rimmed baking sheet. Toast until lightly browned 8 to 10 minutes. Coarsely chop the toasted nuts while still warm. Transfer to the greased bowl.

Add the peanuts, Rice Krispies, flaxseed meal, sesame seeds, chia seeds, and vanilla. Stir to combine.

Warm the brown rice syrup in the microwave for 30 seconds to make it easier to pour.

Immediately pour the warm syrup over the nut mixture and stir until the nuts and seeds are evenly coated.

Scrape the nut mixture into the prepared pan. Press into an even and compact layer. Sprinkle the salt over the top.

Bake until the bars are dry and lightly toasted, 18 to 20 minutes.

Place the pan on a cooling rack and cool the bars in the pan until they can be lifted out of the pan with the parchment sling without breaking apart.

Lift the slab out of the pan and place on a cutting board. Spray a large knife with cooking spray and cut the slab into 10 (1 1/2 by 3 1/2-inch) bars. Then leave them on the cutting board to cool completely.

Combine the chocolate and coconut oil in a shallow, wide, microwave-safe bowl. Microwave on HIGH until melted, 30 to 60 seconds, stirring halfway through.

Place a sheet of parchment paper on a work surface. Dip the bottom of each bar in the chocolate and place on parchment. Transfer remaining chocolate into a small zip-top bag. Snip the corner of the bag and drizzle the chocolate over the top of the bars. Refrigerate the bars for about 15 minutes to set the chocolate.

ENJOY!!!
---