Easy Apple Turnovers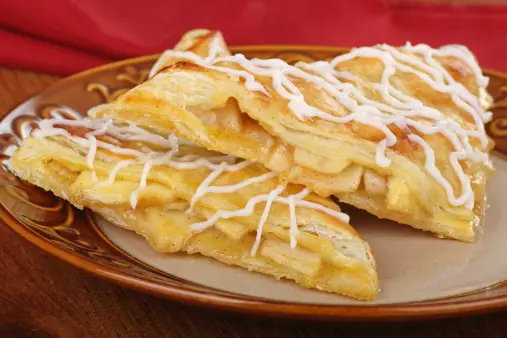 It is apple season and today I am sharing a recipe for some delicious Apple Turnovers. If you love apple turnovers and puff pastry this recipe is for YOU! Wouldn't you love an apple turnover hot and fresh from the oven?
There are just so many amazing recipes that you can make and prepare with fresh apples.
Apple Turnovers are a hand-held treat so you can eat them on the go. If you are going apple picking, like I am today, this is a great way to use up some of your apples.
This Apple Turnover recipe is so simple to make and the perfect treat for fall. You will have people begging for the recipe.
WHAT IS A TURNOVER……
Turnovers are made by filling pastry dough (usually puff pastry) with a sweet or savory filling, sealing the edges and baking. It becomes a portable dessert (like a hand pie), or a type of baked sandwich with a savory filling. Biting into an apple-filled pastry on the go is a real treat.
Puff Pastry filled with a delicious apple filling makes these Apple Pie Turnovers a NEW family favorite for fall!
INGREDIENTS YOU WILL NEED……
Apples.….Fuji, Gala, or granny smith
Puff Pastry…The puff pastry bakes up golden, flaky, and crunchy. (Click here for a quick puff pastry recipe from Pastry and Beyond.)
Cornstarch.
Lemon Juice
Cinnamon
Nutmeg
Egg White
Powdered Sugar
Milk
Coarse sugar….Sprinkle it on the turnovers before they go in the oven.
(Puff pastry sheets are found in the freezer section of your local grocery store.)
You can keep these Apple Turnovers at room temperature for 2 days. If you put them in your refrigerator they will last for 5 days. They are really best when they are fresh.
These are so highly-addictive they are loved by all! They might even taste better than apple pie! ENJOY!!
Let me show how easy they are to make…..
Ingredients
2  apples peeled cored and diced (I like to use Granny Smith)
1  sheet puff pastry thawed
2 tbsp  butter
1 tbsp  cornstarch
1/2  lemon juiced
1/3 cup granulated sugar
1/2 tsp  cinnamon
1/4 tsp  nutmeg
1 egg white plus 1 tablespoon water whisked together.
1 cup  powdered sugar
2 tbsp  milk
Instructions
Preheat oven to 400 degrees, lightly spray a baking sheet with cooking spray.

Melt butter in a skillet, add apples and cook for about 3 minutes. Add the sugar, cinnamon, nutmeg, cornstarch, lemon juice stir. Bring to a simmer and cook until sauce is thickened about 5 minutes.

Unfold the thawed puff pastry sheet. Use a rolling pin to roll over the seams. Cut the sheet into four squares. Spoon the apple filling into the center of the pastry square. Fold the pastry in half and pinch the edges together using a fork. Repeat with the remaining squares. Brush some egg wash on top of the pastries to help them brown. Place on baking sheet. Bake 12-15 minutes.

In a small bowl whisk the powdered and milk together until combined. Drizzle glaze over turnovers after they have cooled.
---