Decadent War Or Chocolate Depression Cake…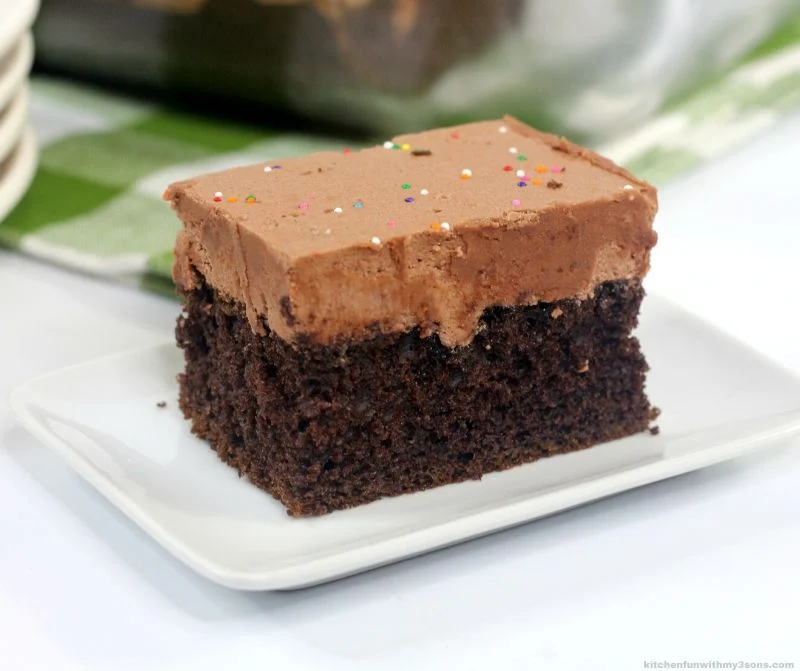 This delicious chocolate cake recipe was developed during the Great Depression time.It is also known as War Cake or Wacky Cake. It is made without butter, eggs or milk, which were all ingredients that were hard to come by during the Great Depression.What a treat this was at that time with this decadent chocolate cake!This is the best chocolate cake ever! Instead of frosting just sprinkle chocolate chips all over the cake as it comes out from the oven.Once they are melted, spread it all over. You will make this again.You will need the following to make this Delicious Depression Cake….Cocoa PowderAll Purpose FlourSugarBaking SodaVanilla ExtractSaltVegetable or Canola OilWaterWhite FlourChocolate Frosting
Ingredients
11/2

cups

flour

1/3 cup unsweetened cocoa powder
1 cup sugar
1 tsp baking soda
1/2 tsp salt
1 tsp white vinegar
1 tsp vanilla ( I always double this)
1/3 cup vegetable oil (I use canola oil)
1 cup water
Instructions
Preheat oven to 350°F.

Grease an 13×9 pan with butter.

In the greased pan, combine the flour, cocoa powder, sugar, baking soda, and salt.

Whisk lightly with a fork or small whisk to combine.

Make two small wells on the sides and 1 large well in the middle of the dry ingredients.

Pour the vinegar and vanilla into the small wells then pour the oil in the big well, if they spill over the wells that's perfectly okay.

Pour the water over the top and whisk again to combine thoroughly.

Bake for 30-35 minutes or until a toothpick inserted comes out clean.

Cool completely before you add frosting.

Adapted from Kitchen Fun With My Three Sons.
---