Frito Taco Salad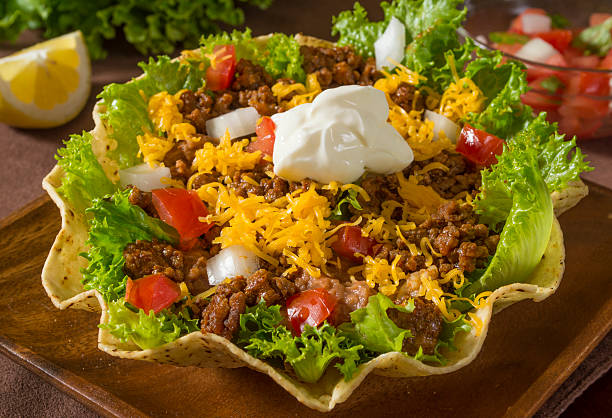 A Classic Salad You Will Love
I love to share recipes that have been around for a very long time. This Catalina Frito Salad is one of those recipes. Our family loves Mexican food in our house.
This Catalina Taco Salad with Catalina salad dressing is always a big hit at pot luck dinners and picnics! Make sure you bring copies of this recipe because people will want a copy.
You will need the following INGREDIENTS…
1lb of lean ground beef (or turkey)
taco seasoning
romaine or iceberg lettuce
Black or Pinto beans, or kidney beans
corn
 tomatoes
shredded cheese
Fritos
Catalina Dressing
optional toppings:  chopped green onions or black olives
Pour the Catalina/French Type Dressing over the salad JUST before serving, or serve it on the side.
To make 
Catalina Dressing
,
Whisk together 1⁄2 cup ketchup,
½ cup sugar,
½ cup red wine vinegar,
½ cup grated onion,
1 teaspoon paprika,
½ teaspoon Worcestershire sauce,
1 cup salad vegetable oil,
½ teaspoon sea salt,
¼ teaspoon pepper.
If you grow a garden this recipe in the summertime is so delicious with homegrown tomatoes.
If you want to put this together ahead of time for a party or potluck, mix the cooked and seasoned beef with the beans and corn and place in one container and the lettuce, tomatoes, and cheese in their separate bags.
Give this salad a try any time of the year, you'll be serving it often.
Ingredients
8-10 cups chopped romaine or iceberg lettuce
1 lb lean ground beef (or turkey)
1 package taco seasoning
1 can  Kidney, pinto or black beans, rinsed and drained
1 cup corn
1 cup 1 cup chopped fresh tomatoes 
1.5 cups shredded cheese
1 bag  Tortilla Chips, slightly crushed into bite-size pieces
1  Bottle Catalina/French Type Salad Dressing
(optional toppings:  chopped green onions or black olives)
Instructions
Brown the ground meat, add the package of taco seasoning after the meat is done.

Remove from heat and drain if needed.

In a large bowl, add all the ingredients to the salad and mix everything together. Combine well, making sure everything is coated with the dressing.

Top with extra Fritos and desired extra toppings. Serve immediately!
---