Tomato Pasta Soup Recipe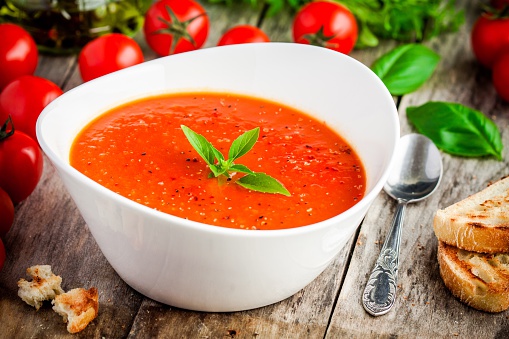 Where we live it is cold. We even got more snow today. I am so done with winter! How about you? I think January goes on and on and I cannot wait to get outside to work in my garden again.
I remember growing up and mom served regular Tomato Soup with a grilled cheese sandwich. We loved that meal. I do like that we can cook all kinds of comfy soups that brings everyone to the dinner table. There are so many favorite recipes to choose from.
Today Let me help you chase away those midwinter blahs with a delicious recipe for Tomato and Pasta Soup. Let's change it up with some grilled cheese croutons, (recipe from
A Gouda Life
) and everyone will love you.
These grilled cheese croutons start with a good melting cheese like classic American, Smoked Gouda, Provolone, Monterey Jack or even Pepper Jack if you like a little kick. You'll also need 4 slices of hearty sandwich bread and some butter.
Brush the outsides of the bread with butter then add any variety of cheese you prefer inside. Add the top of the bread to form a sandwich then cook in a skillet over medium heat until golden brown. Turn and cook the opposite side then cut into bit squares and there you have it.
INGREDIENTS YOU WILL NEED TO MAKE THIS DELICIOUS SOUP…
Extra virgin olive oil
Sweet onions
Fresh garlic
Chicken Stock
Canned crushed tomatoes
Acini di Pepe pasta
Heavy cream
Salt
and Pepper
This soup is SO delicious.
No more soup from a can! Today we are going to use canned tomatoes for a very very flavorful soup. You should definitely make this recipe!
Head to your kitchen and let me show you how to make this soup….better make a double batch! 🙂
Ingredients
3 tbsp  extra-virgin olive oil
2 medium diced sweet onions
3 cloves fresh garlic , minced
4 cups low-sodium chicken stock
28 ounce  can crushed tomatoes
1/2 tbsp salt
1/2 tsp ground black pepper
1/2 cup  Acini di Pepe pasta
1/2 cup  heavy cream
Instructions
In a large pot, warm the olive oil over medium heat. Add the onions and cook for 10 minutes, stirring occasionally, until golden brown. Add the garlic and cook for 1 more minute.

Stir in the chicken stock, tomatoes, and salt and pepper. Bring the soup to a boil, add in the tiny pasta and simmer for 10 minutes.

Stir in the cream, return the soup to a very gentle simmer and cook for another 10 minutes, stirring frequently.

Turn off heat, cover the pot and let rest for about 10 minutes (this will allow the pasta to plump up a bit more.)

Serve hot soup with croutons, saltine crackers or grilled cheese sandwiches.
---