Valentine Snack Bites Recipe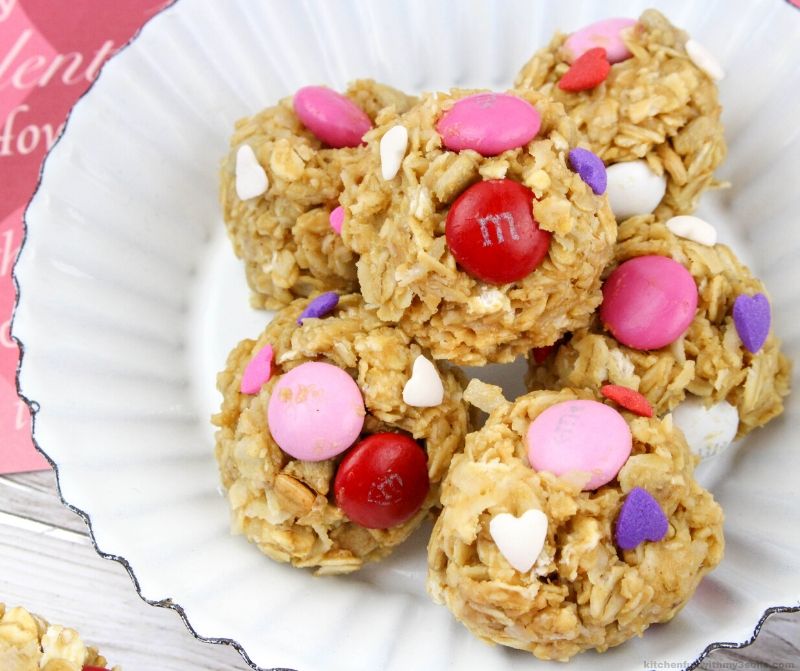 A brand new year has arrived and February is right around the corner. I will start sharing some of our favorite Valentine Treats. I love to pass out special treats on Valentine's Day.
I had a wonderful maintenance man that I worked with for 13 years at a Alzheimer's Facility. He came into my kitchen one day and said your food tastes so good because you Sprinkle it with Love before you serve it. I thought about that for a while and he was right. I wanted the best things for these residents and I worked hard for that.
These Valentine's Day Snack Bites are a delicious treat for your family. You just need a spoon and a bowl to make this fun simple treat.
This healthy no bake recipe is easy to prepare. These energy bites are no bake with no flour, eggs, or added white sugar. 
They're packed with oats, and peanut butter and are a perfect protein snack. 
You will need the following ingredients…
2 Cup Oats (Old Fashioned works best)
1/2 Cup Peanut Butter
1/2 Cup Honey
1/2 Cup Shredded Coconut
1/2 Cup Sunflower Seeds
1/2 Cup Valentine's Day M&M's 
Optional Wilton's Heart Sprinkles.
I know your family will love this recipe! Let's go get started….
Ingredients
2 cup  Oats
1/2 cup  Peanut Butter
1/2 cup  Honey
1/2 cup  Sunflower Seeds
1/2 cup  Shredded Coconut
1/2 cup Colored Chocolate Candies (make sure to get Valentine's Day Colors!)
Optional……Sprinkles for fun! 
Instructions
Cover a cookie sheet with parchment paper.In a large bowl combine oats, peanut butter, honey, sunflower seeds, shredded coconut and chocolate candies and mix well.

Using a cookie dough scoop put 2 Tablespoons into your hands and roll into an even ball and add 3 M&Ms to each ball.

Store refrigerated or frozen in a sealed container.
---