So Cute…Valentine's Day Mini Cakes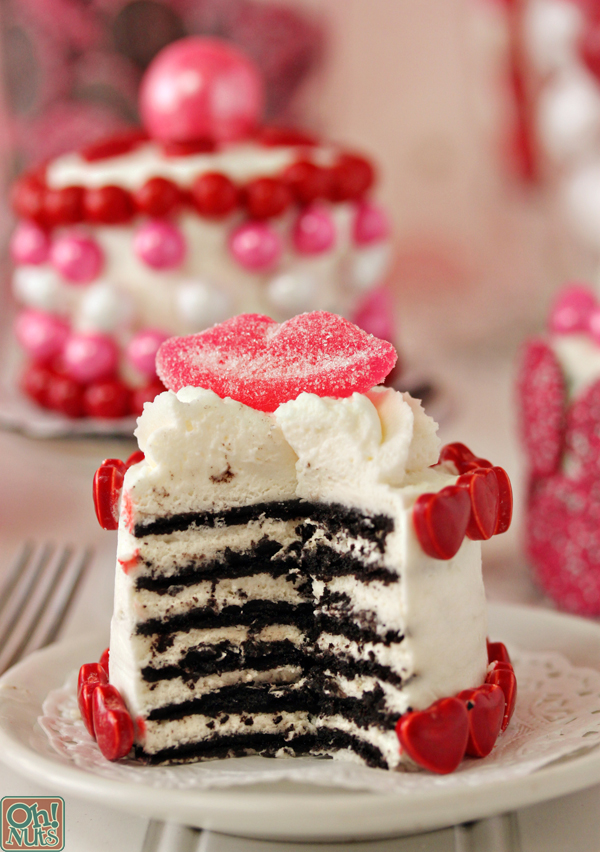 Valentine's Day is a FUN Holiday, and you should not have to spend the whole day in the kitchen to make something special. These Mini Cakes Valentine are adorable and so simple and there's no baking required!
 After your mini cakes are ready to decorate you can do whatever you desire. It's up to you how you'd like to decorate your mini cakes.
Oh! Nuts
 has you covered with all sorts of fun ideas.
Valentine's Day is also a great time to make these adorable mini treats!
Happy Heart Day!
Ingredients
3 cups cold heavy cream
3/4 cup powdered sugar
1 1 9 oz package (about 48 cookies) chocolate wafers
Valentine's candy
Instructions
Combine the cream and powdered sugar in the bowl Whip the cream until it forms firm peaks.

Spread a thin layer of cream on the bottom of a cookie, and place the cookie onto a plate. ( you can find really cute plates at Hobby Lobby)

Spread a layer of whipped cream on top of the cookie, then add a second cookie on top of the first. Continue to add layers of cream and cookies until you have stacked up 6 cookies.

Spread more whipped cream along the outside of the cakes, and smooth it into an even layer. You need to put your cakes in the refrigerator for around 3 hours to let the cookies get soft.

Decorate the cakes with an assortment of Valentine's Day candy, and additional whipped cream.
---