Cupid-Approved Sugar Cookie Fudge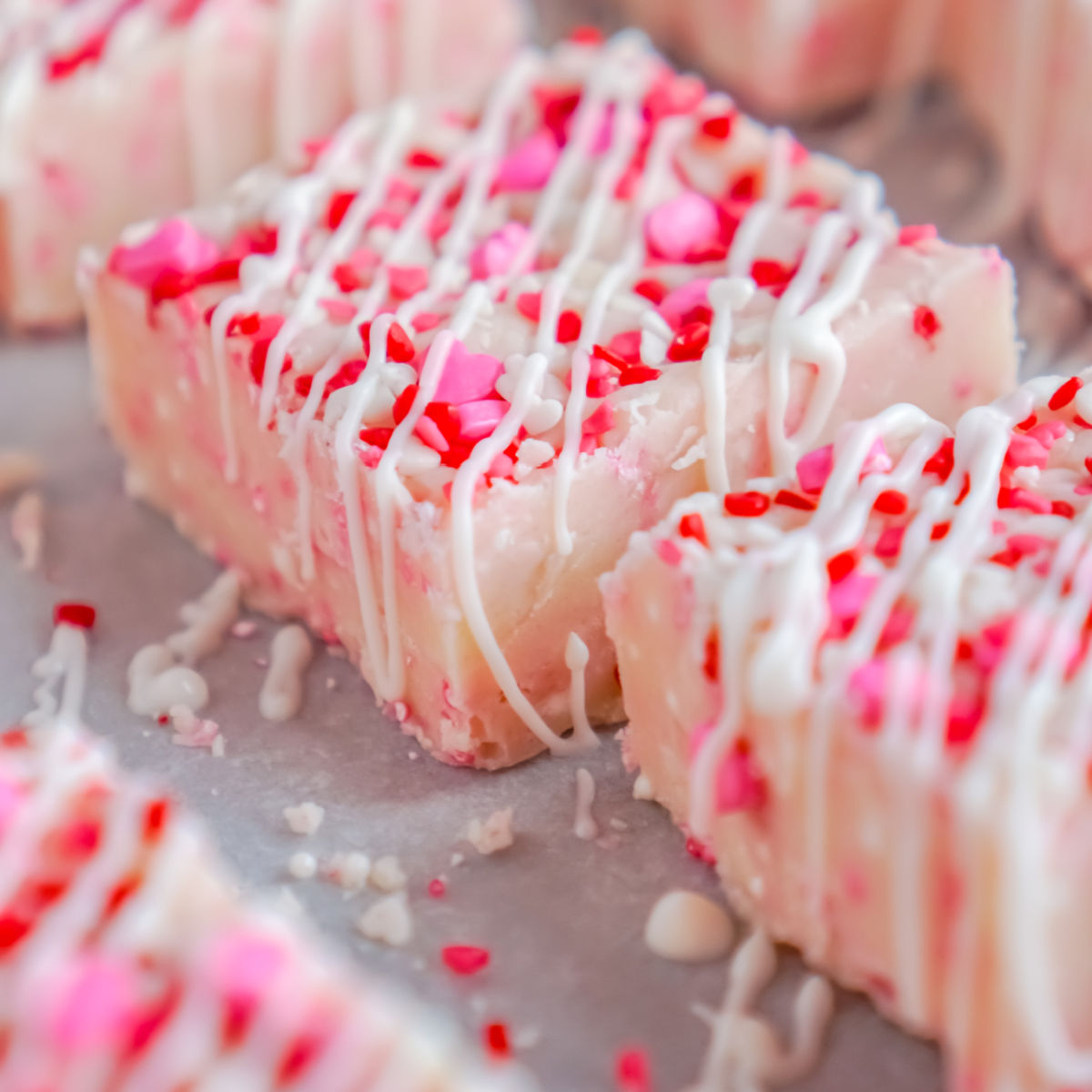 Instead of buying Store-Bought Valentine Candy let's make some Cupid-Approved Sugar Cookie Fudge at home and save money this year.This Valentine's Day fudge is a no-bake dessert to surprise your love ones with.WHAT CANDY WAS FIRST ON VALENTINE'S DAY…In 1902, the candy hearts evolved into the ones we know today and continue to be made every year from late February to mid-January. During that time, around eight billion — 100,000 pounds — of candy hearts are made, and the entire amount is sold out within six weeks.While Valentine's Day is associated with romantic love, it is a holiday you can share with your whole family, and it is a great opportunity to teach your children about the importance of caring for others.This swoon-worthy fudge is a no-bake dessert to surprise your loved ones with.Make this fudge with your kiddos and make a memory. It's really easy to make this tasty fudge and it will become a Valentine tradition.Let's go make some!
Prep Time
20

minutes
mins
Total Time
2

hours
hrs
28

minutes
mins
Course
Valentines Day Dessert
Ingredients
3 cups white chocolate chips
1 cup sugar cookie mix
1 can (14 ounces) sweetened condensed milk
1 tbsp unsalted butter
2 tsp vanilla extract
1/2 cup Valentine sprinkles (divided)
3-4 ounces almond bark or white chocolate
Instructions
In a medium sized double boiler saucepan, combine white chocolate chips, sugar cookie mix, sweetened condensed milk, and butter.

Heat on medium heat and stir continuously until melted and smooth. Once everything is melted, continue stirring for 2-3 minutes to be sure it's all melted.

Remove from heat (but keep on the double boiler) and add the vanilla and half of the holiday sprinkles. Mix well.

Line a 9×9" baking dish with parchment paper and spray well with cooking spray.Transfer fudge to the baking dish and smooth it out in the pan.

Press remaining sprinkles into the top of the fudge and chill in the refrigerator for 2-3 hours.

Once the fudge has hardened, remove it from the baking dish by lifting the paper out and cut it into pieces on a hard surface.

Melt almond bark in a microwave safe bowl in 30 second increments until melted and smooth.

Transfer almond bark to a zippered bag and cut the tip off to drizzle over fudge.

Let cool completely and enjoy.
Keyword
homemade valentine's fudge, special treat for valentine's day, valentine's day sugar cookie fudge
---