The BEST Flavorful Honey Baked Ham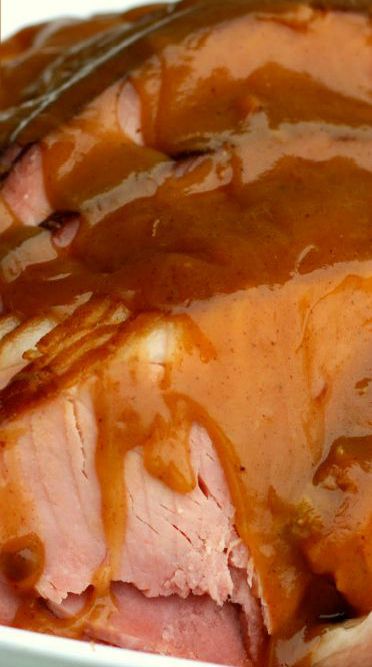 Are you guys thinking about Christmas? It seems like it came so fast! Wasn't it just January? I am trying to get presents bought and wrapped and dinner planned. We always do plates of goodies to pass out to friends and family and try to attend a few Christmas events.
What does your family fix for dinner? Does your family order Honey Baked Ham? Well you can save your money this year because you will love this Homemade version made with honey, sugar and amazing spices that are so flavorful!
I am sure it will become your favorite ham without the price tag, plus it will be the STAR of your holiday Dinner.
This is an EASY Baked Ham Recipe, with a delicious glaze that works for bone in ham, or spiral cut sliced ham.
First you need a really good high quality ham. I love a spiral ham. They are pre-sliced and so easy to serve.
Plan for 1/2 or 1 pound of ham per person. Choose 1 pound per person if you want leftovers. A half ham is usually about 7 or 8 pounds and serves 8-12 people.
TIPS FOR MAKING HONEY BAKED HAM….
Carefully place the ham into your slow cooker. If it is too big for your slow cooker trim the bottom of the ham as needed.
Dry the top of the ham well with a paper towel so the honey you add to the top adheres best.
Fan out the slices a bit when adding the honey so it gets between the slices, then you can press it back together before cooking.
Serve it with scalloped potatoes, and buttered parmeson broccoli. Make sure you cook enough to have ham sandwiches for a snack later.
This is such a delicious ham and you are going to be amazed at how easy it is to make this at home. Ham is good anytime of the year but it is so tasty for the holidays.
Are you ready for the recipe? Let's do this! 
Ingredients
INGREDIENTS
8 lb  bone-in spiral sliced half ham
2 tbsp melted  butter
3 tbsp  honey
1 1/2 cups  granulated sugar
1/2 tsp  seasoned salt
1/2 tsp  onion powder
1/2 tsp  ground cinnamon
1/2 tsp  ground nutmeg
1/4 tsp ground ginger
1/4 tsp  ground cloves
1/4 tsp  paprika
pinch of allspice
Instructions
INSTRUCTIONS
Trim ham if needed, then place in slow cooker.  Combine melted butter and honey, then massage over ham, getting in between the slices a little.  Cover and cook on LOW 4-5 hours.

At the end of the cooking time, preheat broiler to HIGH, and line a roasting pan with heavy duty aluminum foil.  

Combine sugar, seasoned salt, onion powder, ground cinnamon, ground nutmeg, ground ginger, ground cloves, paprika and allspice in a small bowl.  Pat half of the sugar mixture over the top of the ham.

Broil for several minutes, until bubbly and caramelized, then remove from oven.

To a small saucepan, add remaining sugar mixture.  Add 3 Tbsp of either water or ham juices from bottom of the slow cooker. Stir, and heat to a boil.  Boil for about a minute, then remove from heat.

Brush or pour glaze over the ham, then broil again for a minute or two (careful… don't let it burn!).  Remove from oven and let ham rest for 5-10 minutes. 

Enjoy!

Adapted from Todd Wilbur, check out his cookbook.
---