Superb Egg Salad Sandwiches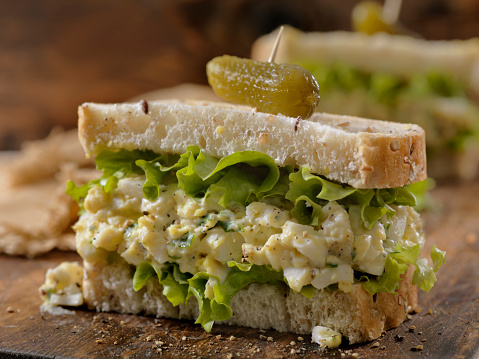 Egg salad Sandwiches are always popular at Easter and a great way to use up those leftover eggs from EasterThis is also a delicious recipe to make for those busy family days. You can make up a large batch of hard boiled eggs and store them in your refrigerator for 1 week. Keep the eggs in their shell, which keeps them the freshest. Egg Salad is such a comfort food . It makes a yummy quick lunch on crusty bread with a green salad. Just pair with some potato chips to finish it up!WHAT YOU NEED TO MAKE EGG SALAD….large eggs mayonnaiseminced chivesminced dilldijon mustardsalt & pepperminced onionsbreadbutter lettuce HOW many eggs should I boil, consider how many sandwiches you'll be making. Plan 2 eggs per person (for each sandwich).(TIP) Make sure your eggs are fresh for this recipe! Expired eggs will float to the top of the water when you try to cook them, but a fresh egg will sit neatly at the bottom of the pan on its side.This here is a basic recipe your Grandma would be proud of!
Ingredients
8  large eggs
1/4 cup  mayonnaise (we use Best Foods)
1/4 cup minced dill
2 tbsp minced chives
2 tbsp dijon mustard
1/2 tsp salt
1/4 tsp  pepper
1 tbsp  minced onions
8 slices bread
4 leaves butter lettuce
Instructions
Place eggs in a single layer in the saucepan. Cover with cold water. Bring to boil.

Once water is boiling, remove from heat and cover for 8 minutes. Then run some cold water over the eggs.

When the eggs are cold, peel and finely chop them with a knife or egg slicer and place in a large mixing bowl.Add mayonnaise, dill, chives, dijon mustard, minced onions salt, and pepper.  Mix until combined. 

Spread on crusty bread, or any bread you like and enjoy!
---