Strawberry Pop Tart Cookies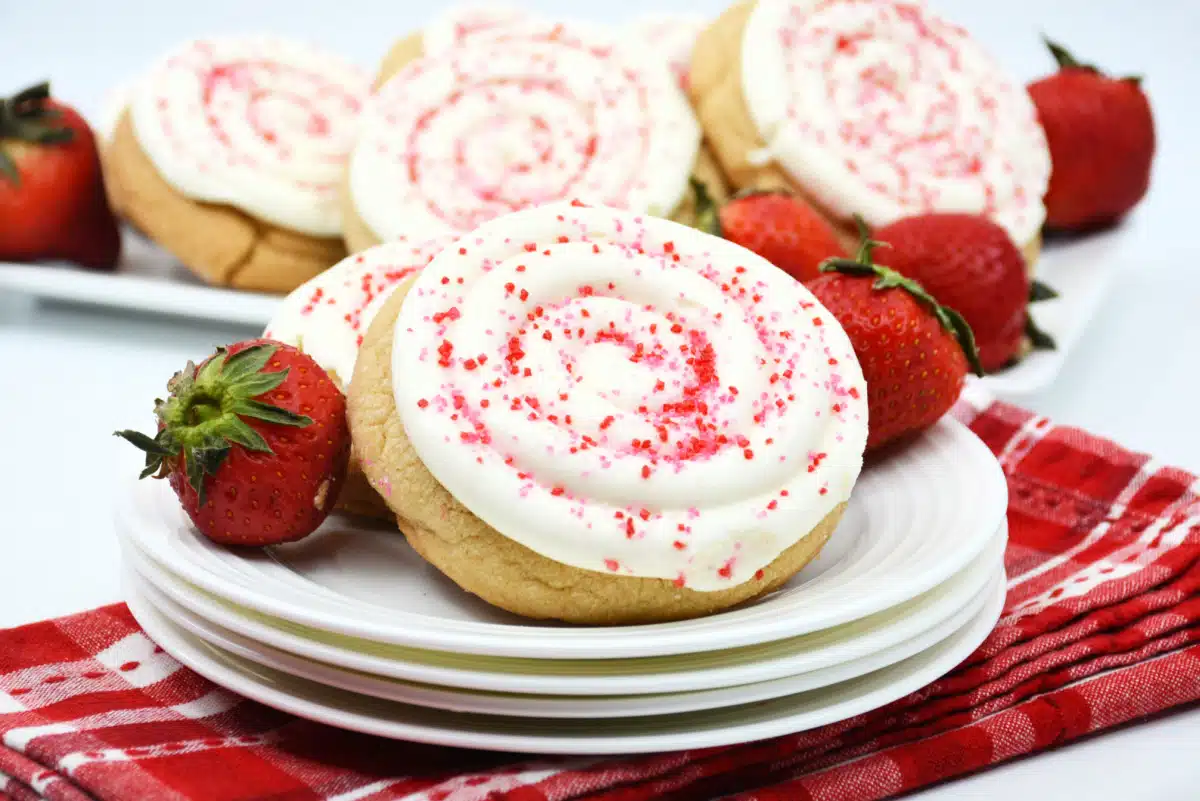 Yummy Stuffed Cookies!
I promise your family will love these cookies! These Strawberry Pop Tart Cookies taste just like a pop tart but so much better. This recipe is so easy to make.This is a fun recipe to get your kids involved. Believe me they will love these cookies. They are a wonderful snack with a glass of milk. Strawberry pop tart sugar cookies are just like the pop tarts you love, but in strawberry jam filled cookie form complete with frosting!INGREDIENTS NEEDED….Butter…make sure it is softened. Granulated & brown sugarEggVanilla….always double the vanilla for extra flavor. Flour…all purpose flour works great.SaltBaking powder…let's make those cookie raise.Strawberry jam… use a good jam.Oil…we use canola oil. You can store these cookies in an air-tight container at room temperature for up to 4 days.You can stuff these cookies with any other jam, like marion berry jam or blueberry jam.Strawberry Pop Tart Cookies are the perfect sweet treat for any occasion, and Mother's Day is almost here and these would be the perfect treat. Happy baking! Ready to make some?
Prep Time
30

minutes
mins
Cook Time
12

minutes
mins
Total Time
42

minutes
mins
Ingredients
1 cup unsalted butter
3/4 cup white sugar
3/4 cup (packed) light brown sugar
1 large egg
1 tsp vanilla extract
1/2 tsp salt
1 tsp baking soda
2 1/2 cups all-purpose flour
1 cup 1 cup strawberry jam
FROSTING
1/2 brick cream cheese, softened

4

tbsp butter, softened
3 cups powder sugar
1 tsp vanilla extract
2 tbsp heavy whipping cream
Instructions
Preheat the oven to 350 degrees.

Add butter and both sugars (white and light brown) to the bowl of a stand mixer. Cream together until light and fluffy.

Reduce speed and add the egg and vanilla. Next, mix in the salt and baking soda and flour.

Divide the sugar cookie dough out into 12 equal portions, about 1/4 cup each. Roll into balls and place 6 on each prepared baking sheet.

With the back of a spoon or cookies scoop, make a deep indentation in each dough ball. Fill these indentations each with a Tablespoon of strawberry jam.

Fold the cookie dough up to seal in the jam and gently roll back into a ball shape, to smooth them.

Bake at 350°F for 10-12 minutes. If the cookies begin to crack a little that's ok. When cookies are done baking (they'll be a light golden brown), remove from oven and cool on a wire rack.
FROSTING INSTRUCTIONS
Add cream cheese and butter to a mixing bowl and cream together on until smooth.

Reduce speed and add powdered sugar one cup at a time.

Mix in the vanilla and heavy whipping cream until smooth.

Scoop the frosting into a pastry bag with a large round tip. Start in the middle of each cookie, frosting towards the outside in a spiral pattern.

Top with sprinkles and take a bite!!
Keyword
pop tart cookies, strawberry pop tart cookies
---