Scotcheroos..A Delightful Treat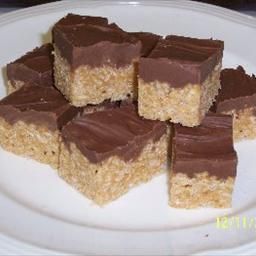 The elementary school my kids went to was call 91 School. It was a little country school and it was wonderful. The PTA put together a cookbook and I found the recipe Scotcheroos. What a delightful treat.A mouth watering combination of chocolate, peanut butter and butterscotch, everyone loves Scotcharoos. You have to make some and make sure you add this recipe to your family collection.They are so addictive you cannot eat just one!! Here's what you need….Granulated SugarLight Corn SyrupCreamy Peanut ButterSemi Sweet Chocolate Chips Butterscotch ChipsCrispy Rice CerealThere is nothing better than eating a few scotcheroos!!
Ingredients
1 cup light corn syrup
1 cup sugar
1 cup peanut butter
6 cups rice krispies
1 pkg chocolate chips
2 tsp vanilla
1 pkg butterscotch chips
Instructions
Combine sugar and corn syup in a sauce pan and cook over medium heat, stirring frequently, until sugar dissolves and mixture begins to boil. Remove from heat.

Stir in peanut butter and vanilla. Mix well. Add KELLOGG'S RICE KRISPIES cereal. Stir until well coated. Press mixture into 13 x 9 x 2-inch pan coated with a little butter on your hands. Set aside.

Melt chocolate and butterscotch chips together in 1-quart saucepan over low heat, stirring constantly. Spread evenly over cereal mixture. Let stand until firm. Cut into 2 x 1-inch bars when cool.
---