Pig Pickin Cake Roll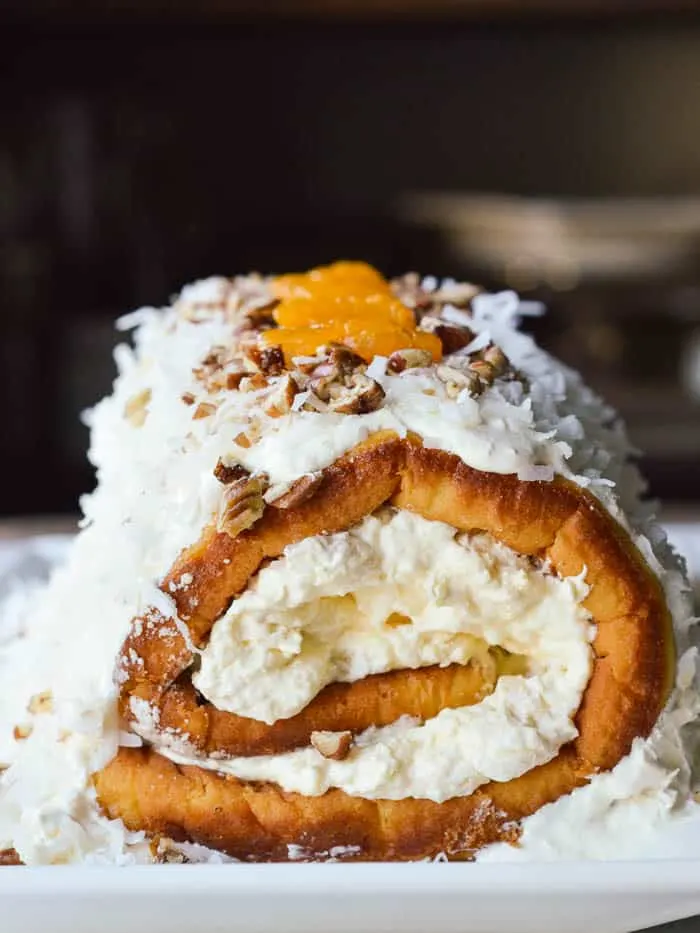 Delicious Dessert
Today I have an cake recipe that you will love. Pig Pickin Cake was found in a Taste of Home Cookbook from long ago.  No one will believe this cake starts with a cake mix!Ultra moist this cake has lot of other names: pig lickin' cake, pineapple orange dump cake, picnic cake, orange delight or orange sunshine cake.This Pig Pickin' Cake Roll is a delicious summer dessert! You just need a a cake mix, and after baking load it with mandarin oranges, pineapple fluff, coconut, and chopped pecans.This easy cake was a traditional favorite at pig roasts, where guests would "pick" the meat off of a roasted pig. Even though there's no bacon in the cake, the name stuck around.INGREDIENTS NEEDED……yellow cake mixbuttermandarin orangeslarge eggsvanilla extractvanilla instant pudding mixcrushed pineapplepowdered sugarwhipped topping (COOL WHIP)extra mandarin orange slices, for garnishEasy, simple, delicious….it's so moist, flavorful, and decadent!  Let's head to the kitchen and let's get baking!
Ingredients
1 box yellow cake mix with with "pudding in the mix"
6 eggs
1 1 (15 ounce) can mandarin oranges
water as needed
1/4 cup 1/4 cup canola oil
For the Pineapple Fluff Filling
1 4 ounce package instant vanilla pudding mix
1 20 can of crushed pineapple, drained, juice reserved
1 (9 ounce) carton of Cool Whip, thawed
1 cup sweetened shredded coconut
1/2 cup chopped pecans to garnish
Instructions
Preheat the oven to 375°F. Spray a 15 X 10 X 1" jelly roll pan with nonstick cooking spray, line the pan with parchment paper, and then spray the parchment paper with more non-stick cooking spray. Flour the pan. Line a standard muffin pan with 6 paper liners for the excess batter.

Add the cake mix and eggs to a large bowl. Drain the juice from the mandarin oranges into a liquid measuring cup. If it measures less than 1/2 cup, add enough water to make up the difference. Dump this 1/2 cup of liquid, the vegetable oil, and the oranges into the bowl. (For more orange taste, add a teaspoon of frozen orange juice concentrate or a teaspoon of orange extract to the reserved mandarin juice.)

Beat on low speed for about a minute, scrape down the sides of the bowl, and then beat on medium for another minute or until combined.

Pour 3 1/2 cups of the batter into the prepared jelly roll pan and divide the rest between the 6 muffin cups. Bake for 15 minutes.

Lay out a clean kitchen towel and dust it with powdered sugar Once the cake is baked, remove it from the oven and turn it out onto the prepared kitchen towel. Start to roll the cake with the towel as tightly as you can manage. Cool at room temperature for 10 minutes and then refrigerate for an hour.

Mix together the vanilla pudding mix, drained crushed pineapple, and Cool Whip together until smooth. Take out the chilled cake and gently unroll it. Spread the filling evenly across the entire cake about an inch thick; you should have enough left to top it.

Roll the cake back up without the towel and carefully lift it and place on your serving plate. Poke about 10 holes in the cake roll with a skewer and pour the reserved pineapple juice over it. You may not be able to add all of it; just add enough so that you aren't making a giant mess.

Cover the cake roll with the remaining pineapple fluff, pat the shredded coconut all over, and sprinkle with the crushed pecans. Garnish with the orange slices you reserved and serve immediately OR refrigerate.
---