Tasty Ritz Cracker Meatloaf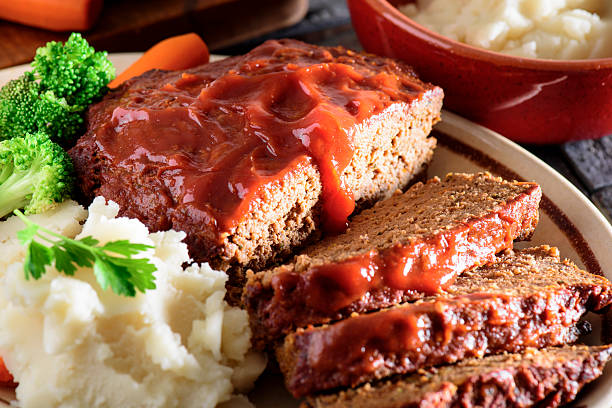 Meatloaf has to be one of my favorite dinners. If you've never had meatloaf made with Ritz crackers before, know that it's pretty awesome. I promise if you if you make this Ritz Cracker Meatloaf, It will be one of your NEW Family Favorite recipes.
Ritz crackers in meatloaf makes the most flavorful meatloaf. Place them in a plastic zip bag and use a rolling pin to crush them.
Quick Tip…..(1 sleeve(37 crackers) snack crackers such as Ritz cracker, crushed (about 1 1/3 cups.)
Made with very few ingredients this recipe comes together easily, perfect for busy school nights.
This classic meatloaf goes well with Mashed Potatoes and Green Beans. For dessert add an Apple Crisp. Your family is going to love dinner tonight!
INGREDIENTS YOU WILL NEED….
ground beef
Ritz crackers
sweet onion
garlic
eggs
milk
ketchup
Italian seasoning
salt
ground black
garlic powder
brown sugar
Worcestershire sauce
For the topping:
¾ cup ketchup
2 tablespoon brown sugar
1 tablespoon Worcestershire sauce
¼ teaspoon ground black pepper
Did you know that if you put pieces of bread around your meatloaf as it cooks it will absorb any grease from the meat? You will have a delicious meatloaf to serve.
You'll want to keep this recipe handy because it's one that you can a make again and again!!
Ingredients
2 lbs ground beef
1 cup crumbled  Ritz crackers 
1 diced  sweet onion
2 cloves minced garlic
2 large beaten eggs
1/3 cup  milk
1/4 cup ketchup
2 tsp Italian seasoning
1 tsp  salt
1/2 tsp  ground black pepper
1/2 tsp garlic powder
Instructions
Preheat the oven to 375°F and prepare a bread loaf pan. In a large bowl, thoroughly mix together all of the meatloaf ingredients.

Press the meatloaf mixture into the loaf pan, and bake for 40 minutes.

In a small bowl, combine the glaze ingredients. After the meatloaf has finished baking for 40 minutes spread the glaze over it and bake for an additional 15- minutes.

Allow the meatloaf to cool for at least 10-15 minutes before serving.
---