My Daughter's Ramen Noodle Salad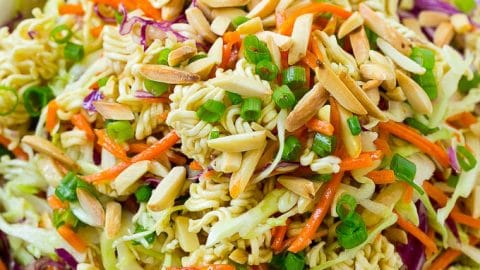 My daughter introduced me to this Delicious RAMEN NOODLE SALAD a couple of years ago. This recipe is one you will make again and again, and is a perfect side dish, and so addicting.Did you know that the Ramen Noodle Salad is an adaptation of a traditional Asian dish, and has been popular in the American Midwest since the 1980's? This salad is a delightful twist on the classic ramen noodles that we have been eating for years and love.What you'll need for RAMEN NOODLE SALAD……Slivered AlmondsRice VinegarSoy SauceSugarPrepackaged Cole Slaw MixPrepackaged Broccoli Slaw Mix2 Packages of Ramen NoodlesSesame seeds, Sunflower Seeds, or Raw Chopped PeanutsYou can add chicken or ham to add a little protein and make the salad will be more filling. For a fruity flavor add Craisins or Mandarin Oranges. Your friends are going to want the recipe so make sure you have a few copies on hand.Ready to get started? Let's dig in!
Ingredients
1/4 cup sliced almonds
1/2 cup olive oil
1/4 cup rice vinegar
3 tbsp soy sauce
1/2 cup sugar
1 14 ounce package coleslaw mix
1 12 ounce broccoli slaw mix
2 packages beef or oriental ramen noodles
1/4 cup Sesame seeds, Sunflower Seeds, or Raw Chopped Peanuts.
Instructions
Preheat oven to 300*F.

Place almonds onto a prepared baking sheet and bake for 8 minutes until almonds are done

While almonds are baking, make dressing. Combine olive oil, vinegar, soy sauce & sugar into a medium bowl and whisk until sugar is dissolved and mixed well.

In a large bowl mix together the broccoli slaw and coleslaw together.

Before opening the ramen noodle packages, break noodles into small pieces no bigger than 1/2 inch. Open and dump into slaw mix – reserving seasoning packets.

Add cooled almonds and sesame seeds to slaw mix and mix well.

Pour reserved seasoning packet contents into your dressing and mix again.Add some Sesame oil into the sauce for an added flavor boost. No more than about 3-4 tsp.

Pour entire dressing over slaw mixture and mix well.

Refrigerate for 3 hours or overnight. Serve chilled.
---