Dutch-Oven Chocolate Cherry Cobbler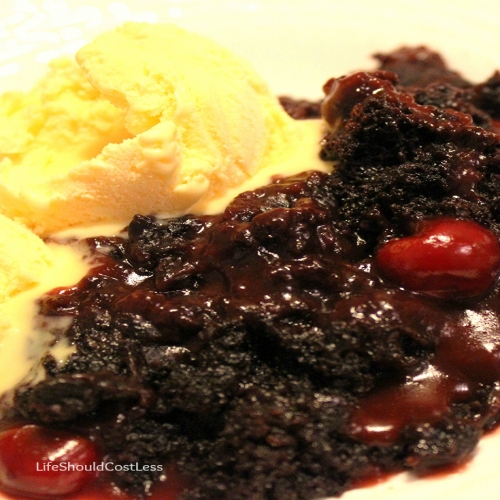 Have you ever cooked in a Dutch-Oven? I remember as a girl going to camp every summer and we would cook some kind of fruit cobbler, fried chicken and biscuits in a Dutch-Oven. This recipe for Dutch-Oven Cobbler I found a long time ago in a old cookbook from a church. You know those recipes have been handed down from grandparents and aunts and uncles and are so delicious!
Growing up one of my best friends was a pro at Dutch-Oven Cooking. She had taken a few classes and her food was so amazing. Don't be afraid to try this, you will not believe how easy this recipe is to make in a Dutch Oven!
Next time you go camping bring these ingredients along and give your family a special treat. It needs just a few ingredients and the taste is mouth-watering
Cleanup is a breeze with these casserole liners I found over at Amazon.
If you have a fire pit in your back yard everyone will love this Chocolate Cherry Cobbler for a Summer Barbecue. Make sure you top it with a scoop of ice cream or a dollop of whipped cream. 🙂
YOU WILL NEED THE FOLLOWING INGREDIENTS…
Cherry pie filling
Devil's food cake mix
Butter
Vanilla ice cream
TRY SOME OTHER RECIPES AND SWITCH UP THE FLAVORS…. (Same recipe)
Blueberry Pie Filling, Lemon Cake Mix, Lemon/Lime Soda
Lemon Pie Filing (curd), Lemon Cake Mix, Lemon/Lime Soda
Peach Pie Filling, White or Yellow Cake Mix, Cream Soda
Mixed Berry Pie Filling, Chocolate Cake Mix, Cream Soda
Blueberry Pie Filling, Yellow Cake Mix, Lemon/Lime Soda
Blackberry Pie Filling, White or Chocolate Cake Mix, Cream Soda
Learning how to cook with a Dutch-Oven is so fun. Just a little tip for you….Don't forget to check whatever you are cooking. If you can smell a burning smell while cooking then WHOOPS you've baked it too long.
This dessert is so decadent and delicious. Everyone that tastes it is going to be raving about it!!
Ready to learn how to make it?
Ingredients
2 cans Cherry Pie Filling
1/2 20-oz Bottle of Dr. Pepper
1/4-1/3 cube Butter
Brown Sugar
Chopped pecans
1 box Devils Food Cake Mix
Instructions
Slice the butter and dot over the top of cake.

Sprinkle brown sugar and pecans over everything.

Set lid on dutch oven and place over hot briquettes. Put 18 briquettes on top and bake for 35-40 minutes.

Serve warm with vanilla ice cream or whipped cream.

No Dutch Oven? You can bake at 350° in your oven for 35-40 minutes.
---