Simple Italian Easter Bread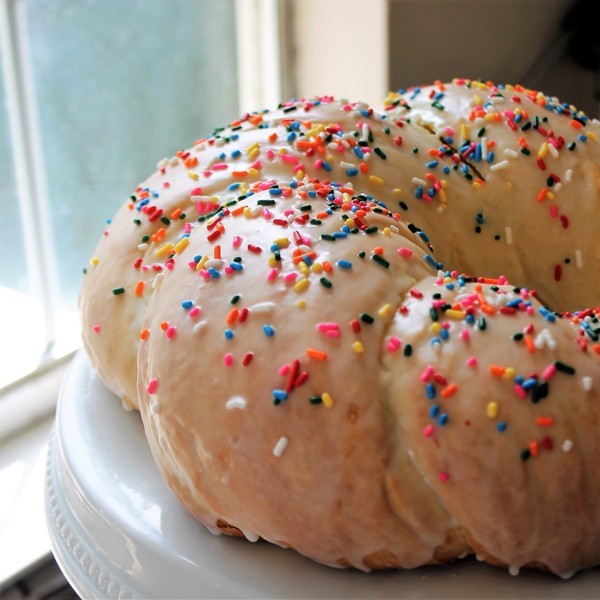 This simple Italian Easter Bread recipe is perfect for creating a delicious Easter tradition and treat. Italian Easter Bread is a soft braided bread and topped with a glaze and sprinkles. Add in the homemade orange glaze, and this is a delicious Easter dessert that everyone will look forward to. This is a classic recipe to make for the Easter holiday, and it is delicious served at breakfast or with your Easter dinner!I look forward to making this every year because it's one tasty tradition that I love sharing with my family. INGREDIENTS….floursugarmilkactive dry yeastbutter eggssaltIcing Ingredients powdered sugar milkSprinklesorangealmond extractThe word "Easter" comes from "Eostre," the name of the Anglo-Saxon goddess of light and spring. Each year, individuals would make special dishes to honor her in hopes that the year would be filled with fertility and prosperity.Bread played a special role and some say that celebrating with it dates back to ancient times.If your family loves Easter Traditions make this recipe for your holiday celebrations.Scroll down for the recipe!
Ingredients
2 1/2 cups flour
1/4 cup

sugar

2/3 cup milk
2 1/2 tsp active dry yeast
2 tbsp butter
2 eggs
1 tsp salt
Melted butter for brushing
ICING
2 cups powdered sugar
2 tbsp milk
1 large orange, zested and juiced
1/8 tsp almond extract
Instructions
In a bowl, mix your flour, sugar, salt and yeast.

Warm your milk and butter, and then add it to your flour mixture and blend with an electric mixer. Add eggs and blend again. Keep mixing until your dough comes together.

Drop it onto a floured surface and knead until smooth. Brush the dough ball with oil, place in a large bowl, and cover with a damp towel. Let it rise for 1 hour.

Once risen, turn out the dough onto a floured surface and divide it into two pieces. Shape these pieces into long snakes, rolling them out fairly thin. Twist your two rolls together and form them into a circle or oval shape.

Lay your wreath onto a baking pan and cover with a towel for another ten minutes.

Brush your bread with melted butter just before putting it in the oven.

Bake at 350 for 25-30 minutes, keeping watch after 20 to make sure it doesn't burn. Then, remove from oven and let cool.

For your icing, mix powdered sugar, orange zest and almond extract together with milk. Whisk them until you have a thick paste.

Drizzle your icing onto your bread, and then top with your favorite sprinkles. Let it harden for a few minutes, and then serve!
---