Luscious Orange Creamsicle Milkshake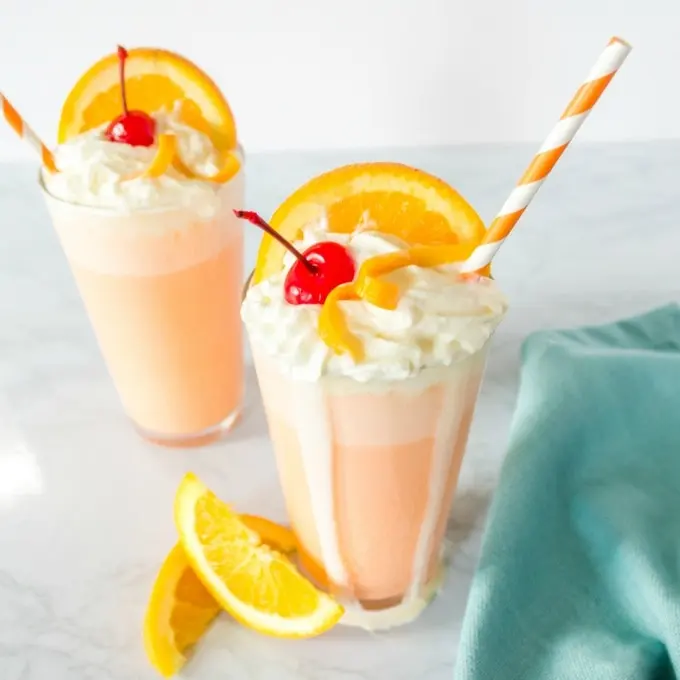 Made with only four ingredients this Luscious Orange Creamsicle Milkshake is going to take you back to your childhood. It's an easy treat that everyone is going to love!
When I was growing up I did not have an ice cream truck that would come to my neighborhood. But when I had kids of my own, there it was playing music and had refreshing treats to help us cool down in the summertime.
Orange Creamsicle Milkshakes will make you remember the Orange Push-Ups from the ice cream truck we enjoyed every summer growing up.
INGREDIENTS NEEDED…
Vanilla Ice Cream
Orange Soda
Whipped Cream
Orange Sherbet
 (Using a good quality vanilla ice cream, from your freezer will help give you a thicker texture.)
Just a little FYI….This ice cream treat was invented by a kid? You can find out more
 here.
If you're looking for a simple way to cool down this summer, then give this milkshake a try!
Ingredients
3/4 cup orange soda
2/3 cup  vanilla ice cream
2/3 cup orange sherbet
3 tbsp whipped cream for topping
Instructions
Pour 3/4 cup of orange soda into blender.

Add 2 large scoops of vanilla ice cream.

Add 2 large scoops of orange sherbet.

Blend ingredients until smooth and creamy and pour into a glass.

Top with lots of whipped cream! YUM!!
---