Crack Chicken Bird Dogs…Delicious!!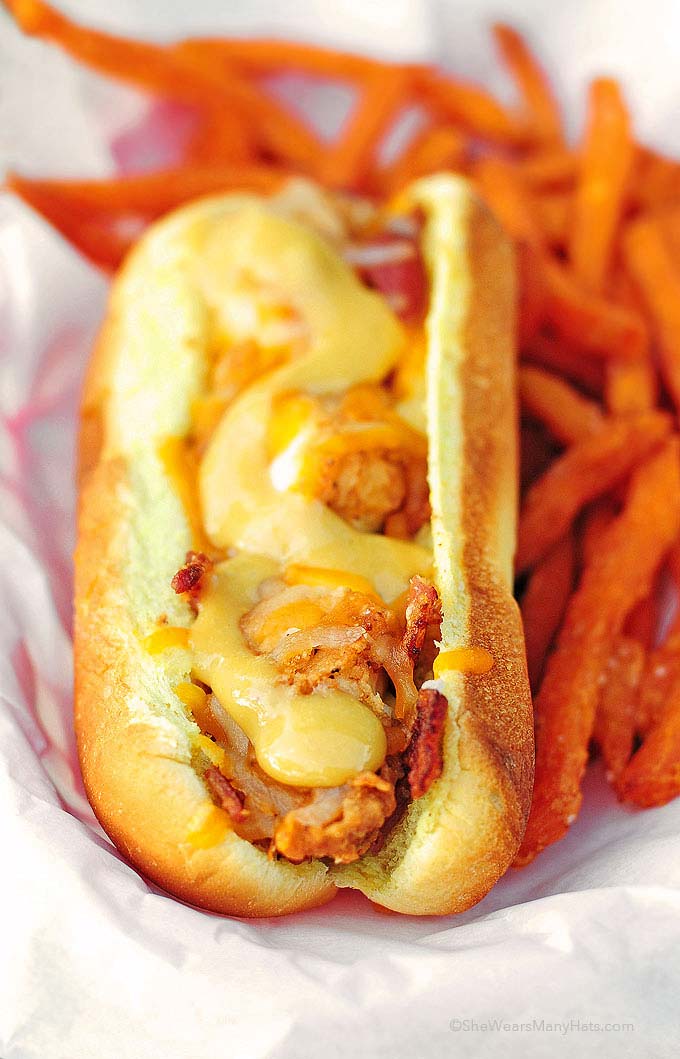 Have you tried South Carolina Bird Dogs?  I thought hot dog buns were only to make hot dogs but these dogs are in a CLASS OF THEIR OWN and will be a BIG HIT with your family!
You should add these to your Father's Day Menu!!
These Bird Dog Sandwiches are so crispy with a little bit of spice added in and are made in minutes.
The history of bird dog sandwiches
 starts with a now-closed restaurant in Anderson, South Carolina called Daddy Rabbitt's. Daddy Rabbitt's is no more, but the above link claims that they had bird dog sandwiches on their menu 25 years ago.
So exactly what is a Bird Dog? It is like a hot dog but with chicken tenders. These chicken sandwiches are great anytime. Everyone will gobble them up!
INGREDIENTS NEEDED…
BACON
BREADED CHICKEN FINGERS
CHEDDAR CHEESE
HONEY MUSTARD DRESSING OR SAUCE
HOT DOG BUNS
The
TIPSY HOUSEWIFE
shared the following recipe for a
Delicious Sauce to put on top of these Bird Dogs.
..
3/4 cup Mayonnaise
1/2 tablespoon of tomato powder or 1 tablespoon of ketchup
1 tablespoon of rice wine or white wine vinegar
1/2 teaspoon of cayenne pepper
1/2 teaspoon cracked black pepper
1 tablespoon of finely sliced chives
1/2 teaspoon of garlic powder
1/2 teaspoon celery salt
1/2 teaspoon of onion powder
Tiny splash of Worcestershire
For the sauce, mix all the ingredients and her secret ingredient….a tiny splash of juice from a jar of pepperocini. Mix the sauce and let it sit in the fridge a few hours.
Dad is going to love these!
Scroll Below for the full recipe.
Ingredients
Instructions
Preheat the oven to 350ºF.

Place chicken fingers in hot dog buns.

Top each chicken finger with one slice of chopped bacon.

Top bacon and chicken with 2 Tbsp cheese.

Place sandwiches on a baking sheet and cook until the cheese has melted, 3 to 5 minutes.

Drizzle sandwiches with ranch dressing and dig in.
---