Don't Lose This Recipe..Caramel Chex Mix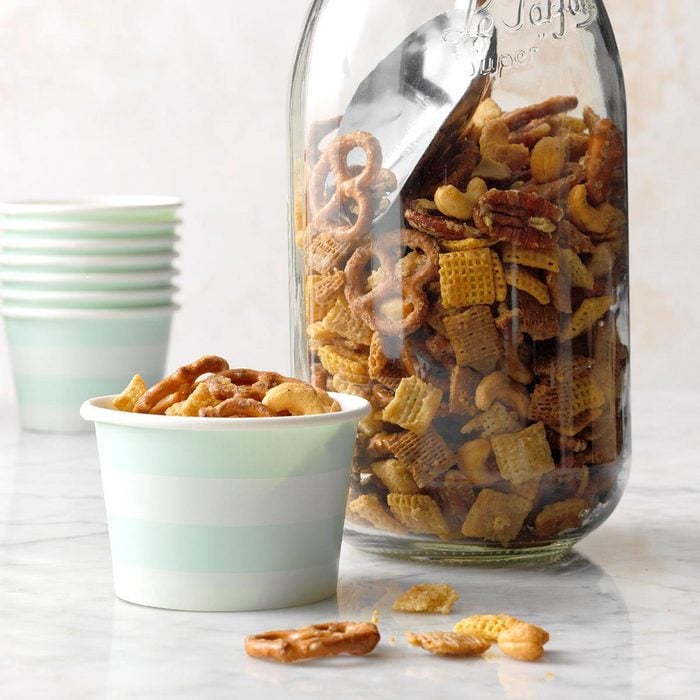 How does your family celebrate New Year's Eve? Do you have a big party at your house or go to a neighbor's or a family member's house? If you are having a lot of people over have them bring…an appetizer, and a dessert for kids and adults.
I love when you can just graze and a have a variety of delicious foods to enjoy.
There are certain foods we like to make like this Caramel Chex Mix. It is a delicious crunchy snack loaded with pretzels,cereal,and nuts. (Don't Lose This Recipe!) Set out a bowl or two at your New Year Eve's party and it will disappear by the handful.
We also love…..
Easy Chicken Taco Soup
Garlic Bread Meatball Bombs
Cream Cheese Tortilla Bites
Have a Happy New Year!
Ingredients
INGREDIENTS
`2 cups of Rice Chex, Corn Chex and Wheat Chex
2 cups miniature pretzels
2 cups pecan halves
2 cups salted cashews
3/4 cup cubed butter
3/4 cup packed brown sugar
Instructions
INSTRUCTIONS
In a large bowl, combine the cereal, pretzels and nuts. In a small saucepan, combine butter and brown sugar. Bring to a boil; cook and stir until thickened, about 2 minutes. Pour over cereal mixture; toss to coat.

HAPPY NEW YEAR!!
---