Cheese Ball Bites Recipe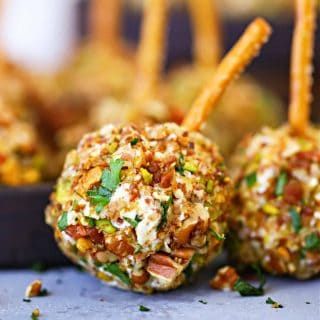 A good New Year's Eve Party must have have amazing appetizers. Today I'm sharing one that's quick and easy.. Cheese Ball Bites!This holiday treat will be the hit of your party every year!This recipe has so much flavor that you may be surprised how simple the ingredients are! Here's what you'll need….Cream Cheese….. the "glue" that holds these bites together.Other Cheeses….to flavor these cheesy bites, you'll need another cheese to pair with the cream cheese. For this recipe I used a Monterey Jack/Cheddar Blend.Seasonings…I used onion and garlic powder.Coatings…chopped pecans, chopped pistachios, bacon bits, and parsley.Pretzel Sticks… insert a pretzel stick into your cheese balls to add a handle.Just a little tip…..You will want to double this recipe according to the amount of people that you'll be serving. Your guests will want more than one!These Cheese Ball Bites are easy to make. Get ready to wow your party guests or family. Happy New from our family to yours!
Ingredients
INGREDIENTS
12 ounces soften to room temperature cream cheese (1 ½ blocks) 
1 cup  shredded cheese, Monterey Jack/Cheddar Blend
3 tbsp  mayonnaise
1 1/2 tsp garlic powder
1 tsp  onion powder
3/4 cup finely chopped pecans
1/4 cup  finely chopped pistachios
1/4 cup  real bacon bits
2 tbsp chopped parsley
20  pretzel sticks
Instructions
INSTRUCTIONS
Combine the softened cream cheese, shredded cheese, mayonnaise, garlic powder, and onion powder in a large bowl and stir together until completely combined.

Cover and chill for 15 minutes.

In a smaller bowl, combine the chopped pecans, chopped pistachios, bacon bits, and parsley. Stir to combine.

Insert a pretzel stick into each mini cheese ball and then chill on a tray until ready to serve.
---