DELICIOUS Mini Pretzel Bites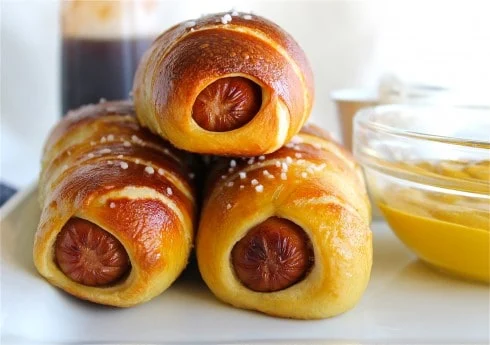 These Mini Pretzel Dogs are  a combination of a chewy pretzel and a juicy sausage. They are so delicious! They're the perfect appetizer for your New Year's Eve Party or anytime.
This recipe comes together quickly as it only needs two ingredients: Lil smokies and pizza dough.
No more worrying about grabbing these from Auntie Anne's at the mall you can now enjoy them at home! They're so delicious, and you better double this recipe….everyone will gobble them up in no time!
If you are wondering if you could use a different kind of sausage that is up to you. We use Lil Smokies in this recipe but you can use your favorite hot dog sausage or we like also like to use Polish Sausage.
DON'T FORGET THE DIP…
 Cheese Dip….
Combine 1/4 cup mayonnaise, two tablespoons of hot sauce like Frank's Red Hot, ¼ cup Cheese Whiz, one teaspoon of Yellow Mustard in a mixing bowl. Stir well and serve with the Pretzel Bites.
Or
Chili Cheese Sauce..via Spaceships and Laser Beams.
Or
White Queso..via Midget Mamma.
Let's Get Cooking……
Ingredients
Instructions
INSTRUCTIONS
Preheat oven to 350°

Cut the pizza dough is small strips, matching the number of cocktail sausages you have.

Wrap the sausage in one strip of dough, from one end to the other.

Boil 4 – 6 cups of water and dissolve the salt in the water. 

Take the Water off the heat. 

Carefully, drop the pretzels into the water and let them sit from 10 to 30 seconds.

Take them out of the water with a strainer spoon and put them on a parchment lined baking sheet.

Bake them for approximately 10 to 12 minutes or until they turn golden brown.

Remove from the oven and brush them lightly with melted butter.

Sprinkle sea salt over each pretzel bite. 
---