Cheese Ball….Delicious For Any Occasion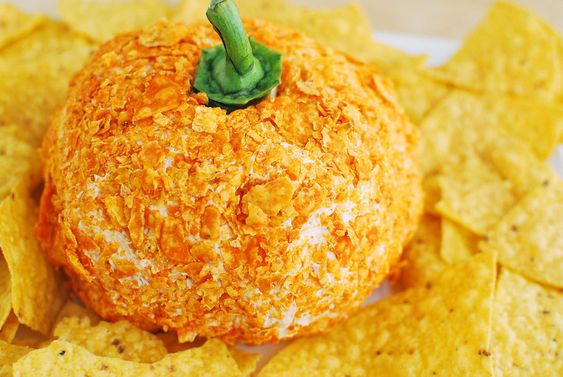 When I was growing up my mom made a delicious Cheese Ball. Her recipe had
crushed pineapple
in it and it was so addicting. Oh my gosh I loved it. Following that tradition I make Cheese Balls every holiday season and they are gone in a flash.
During the holidays you see all those fake cheese balls in the store and they cost a lot!! Choose Homemade instead, and make this a holiday staple every year. This cheese ball will become your favorite NEW appetizer.
Any cheese ball is a delicious addition to your holiday party, and a tradition that I grew up with!
 A super easy recipe to make with only a few ingredients…..
16 oz cream cheese room temp
2 cups cheddar cheese
3 tbsp minced onion
3 tbsp salsa
1 tsp ground cumin
2 cups nacho cheese chips crumbled
top of 1 bell pepper for stem garnish.
More Cheese Ball Recipes you will like…..
Caramel Apple Cheeseball
Chipped Beef Cheese Ball
Jalapeno Popper Cheese Ball
With Halloween just around the corner let me share this cheese ball recipe with you.
Ingredients
16 oz cream cheese (room temperature)
2 cups shredded cheddar cheese
3 tbsp salsa
1 tsp taco seasoning
3 tbsp minced onion
1 tsp ground cumin
2 cups Nacho Cheese Chips (Doritos)
Top of 1 bell pepper for stem garnish.
Instructions
In a mixing bowl, combine the cream cheese and cheddar cheese.  Mix in the salsa and taco seasoning. 

Scoop mixture into the middle of a piece of plastic wrap. Wrap in plastic wrap and shape the mixture into a pumpkin shape.

Place it into the fridge for at least 2 hours. 

Right before serving, crush the Doritos into crumbs. Unwrap the cheeseball from the plastic and roll the cheeseball in the crushed Doritos. 

Use the handle of a spoon to "dig" a hole in the top of the ball for the stem. Press the stem of one green Bell Pepper into the top of the cheese ball. 

Serve with chips, vegetables or pretzels!

Leftover cheese ball can be kept in the fridge in an airtight container for 3-5 days.
---