All-American Chicken Caesar Wraps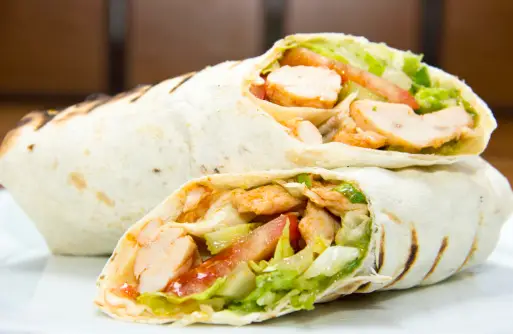 If you love Caesar Salad then you and you family are going to love these All-American Chicken Caesar Salad Wraps!
They are just like the classic salad but wrapped up in a tortilla.
They are such an easy lunch to make and so filling and delicious.
The recipe calls for cooked chicken. You can either use rotisserie chicken or cook your own chicken. This is the perfect meal that you can serve to your family.
INGREDIENTS TO MAKE CHICKEN CAESAR WRAPS….
Boneless, skinless chicken breast
Romaine lettuce
Caesar salad dressing
Parmesan cheese
Croutons
Diced tomatoes (or halved cherry tomatoes)
Tortilla wraps
HOMEMEADE CAESAR SALAD DRESSING….(From
Together As a Family)
1/3 cup mayonnaise
1/3 cup olive oil 
'
1/4 cup freshly shredded Parmesan cheese
2 tablespoons fresh squeezed lemon juice 
about 1 large lemon
2 teaspoons Dijon mustard
1½ teaspoons Worcestershire sauce
1 clove garlic
In a mixing bowl combine the Caesar salad dressing ingredients and stir together with a whisk until combined.
(Let me share a tip for packing any sandwiches…..Use lettuce as a barrier to keep your bread dry. In these wraps put lettuce down and then chicken and tomatoes.)
Serve these Chicken Caesar Wraps with potato chips, pickles, and a fruit bowl.
These Chicken Caesar wraps are also perfect for packed lunches, picnics, even lunch on the go!
Scoll below and I will show you how easy these are to make……
Ingredients
Instructions
Bake the chicken breast and cut it into bite-size cubes.

Toss lettuce, dressing, cheese, and chicken in a large bowl until everything is coated with dressing.

Place salad mixture in the middle of the wrap. Top with croutons and tomatoes.

Wrap up tightly and serve!
Notes
Optional…. Toast the wraps! Melt some butter or olive oil in a hot skillet to griddle. Toast about 2 or 3 minutes per side until slightly golden brown.
To serve, cut into half if desired. Enjoy!
---