Rotisserie Chicken Seasoning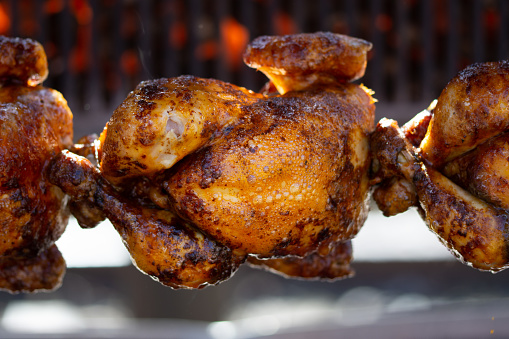 Every time I shop at Costco I have to buy one of there Rotisserie Chickens… they taste so good! Now I have found a chicken seasoning that is so close to their recipe I hope you try it. Rotisserie chicken is one of those delicious meals that everyone in my family enjoys. Is is so easy to make with spices you probably have in your pantry.This Chicken Seasoning makes the BEST, most flavorful roasted or rotisserie chicken! To make this recipe you need the following spices:Fine saltPaprikaWhite pepperGarlic powderOnion powderGround black pepperCayenne pepperIt does not matter what you are making…a whole rotisserie chicken, or chicken thighs, or breasts, this is a Delicious Seasoning for chicken. Try it on seafood and vegetables too!Let's head over to my kitchen and make some….
Ingredients
4 tbsp salt
4 tbsp paprika
2 tbsp white pepper
2 tbsp garlic powder
2 tbsp onion powder
2 tsp ground black pepper
1-2 tsp cayenne pepper
1/2 tsp dried thyme
Instructions
Mix all of the spices together in a small bowl and tranfer to an air tight container or glass jar. Store for up to 2-3 years.

Use 2 tablespoons of seasoning for 1 rotisserie chicken.
---