Frozen Banana Split Pie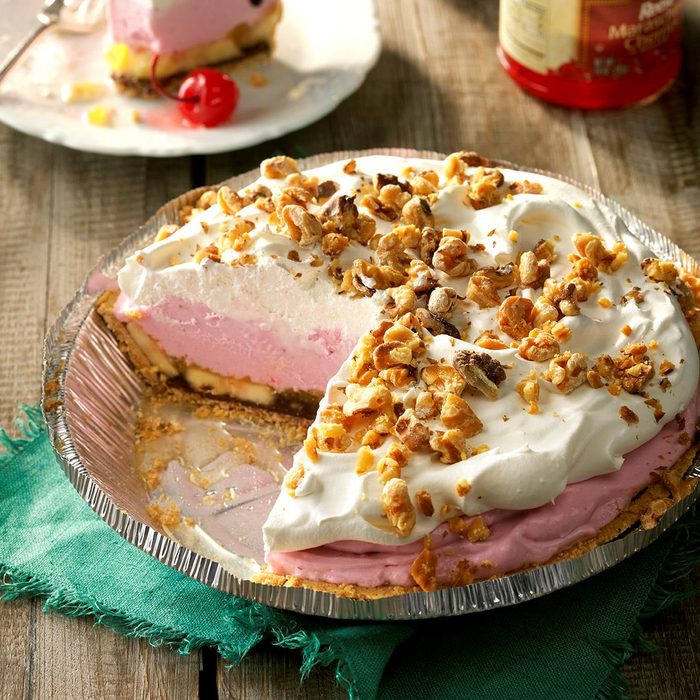 The Perfect Summer Dessert!
I use to make a Banana Split Dessert that was out of this world. But it used eggs and now they do not recommend that unless you cook the eggs. So I found this amazing luscious Frozen Banana Split Pie Recipe that is the easiest pie you'll ever make!Summer is coming and that means family time with picnics, BBQ's, and potlucks, are upon us. If you're looking for a pie to WOW family and friends Frozen Banana Split Pie will do it! Absolutely delicious!This easy no-bake summer dessert can be made ahead of time and a fun way to finish a meal! You and your family will be drooling over this pie after every bite. I hope you enjoy this recipe as much as we do.
Ingredients
3 tbsp chocolate hard-shell ice cream topping
1 graham cracker crust (9 inches)
2 medium bananas, sliced
1/2 tsp lemon juice
1/2 cup pineapple ice cream topping
1 quart strawberry ice cream, softened
2 cups whipped topping
1/2 cup chopped walnuts, toasted
Chocolate syrup
8 maraschino cherries with stems
Instructions
Pour chocolate topping into crust; freeze for 5 minutes or until chocolate is firm.

Meanwhile, place bananas in a small bowl; toss with lemon juice. Arrange bananas over chocolate topping. Layer with pineapple topping, ice cream, whipped topping and walnuts.

Cover and freeze until firm. Remove from the freezer 15 minutes before cutting. Garnish with chocolate syrup and cherries.
---