Famous Christmas Caramels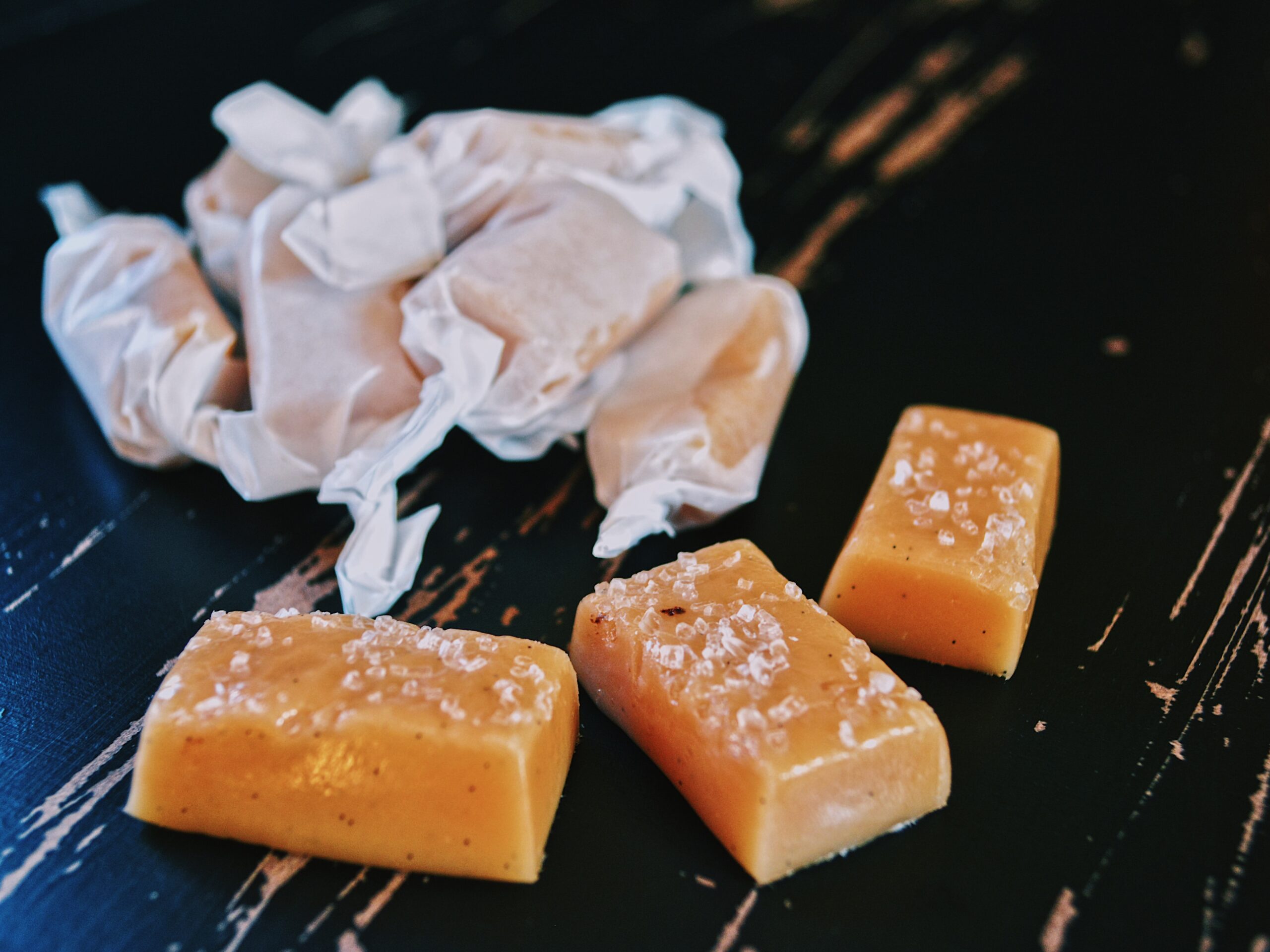 I have no idea where these caramels got their name. This recipe came from an old family cookbook. All I know is they are fabulous! When is the last time you made some homemade caramel? These soft and chew caramels are an easy, homemade holiday gift for family, friends, neighbors, and teachers.This was a family tradition every Christmas to have caramels. So make sure to keep recipe handy when the holidays roll around. The following chart should help you when trying to figure out the different stages when making candy.Soft-Ball Stage235˚-240˚ – Dropped into cold water, this will have the consistency of a soft flexible ball.  This stage is good for caramelsFirm- Ball Stage245˚-250˚ – Dropped into cold water this will have the consistency of a firm but, still slightly flexible ball.  If you want a firmer caramel stop at when this temperature is reached.Hard-Ball Stage250˚-265˚ – Dropped into cold water this will have the consistency of a hard ball.  Soft-Crack Stage270˚-290˚ – Bubbles on top will become smaller, thicker and closer together.  Most of the moisture has cooked out at this stage.  Dropped into cold water, it will solidify into threads that will slightly bend and then break. Hard-Crack Stage300˚-310˚ – Dropped into cold water, this forms hard brittle threads that break when bent. This recipe for the best homemade caramels that will leave your mouth watering. ! A must try candy recipe!
Ingredients
INGREDIENTS
2 1/2 cups sugar
2 cups Karo Syrup
1/2 tsp salt
3 cups whipping cream
1/2 can Eagle Brand Milk
1 1/2 tbsp vanilla
2-4 cups walnuts (optional)
Instructions
INSTRUCTIONS
Boil sugar, syrup and salt together for about 10 minutes.

Heat cream and condensed milk together in another saucepan. (Sugar and syrup should be boiled in a large, heavy saucepan.)

Do not allow cream to boil, just keep warm. Add cream mixture slowly to boiling syrup ( 2 or 3 tablespoons at a time), but do not let the mixture stop boiling.  (time to clip on your thermometer making sure it doesn't touch bottom of pan)You should always calibrate your thermometer before cooking caramels (or any kind of candy). Here's how to do it…..Fill a pot with 4-6″ water, then affix the thermometer at least 1 inch below the water line.Bring the water to a boil.Allow the water to boil at least 10 minutes.Check the temperature of the thermometer. Water boils at 212°F degrees, so if your thermometer isn't reading that temperature precisely, it's off.

Once caramel starts to boil, continue cooking until the caramel reaches 230° and then start to test for "soft ball stage." This takes approximately 16-18 minutes to get to this point, all the while stirring constantly.

If you are unsure what "soft ball stage" means, get a small bowl of cold water and once the temperature reaches 220° drop a little caramel into the cold water and see if it feels soft, but somewhat firm between your fingers. Keep testing for the firmness with the "soft ball stage" method. Once the caramel reaches the desired texture and temperature, remove from heat.

Cook to 245 degrees, and add vanilla and nuts. Pour into buttered pan. Two 9×9 inch pans are good, or if you want a deeper caramel use 1 large pan. If desired you can  sprinkle coarse sea salt over the caramel. This salt really enhances the flavor of the caramels by providing a contrast to the sweetness.

Let set overnight and cut into squares. Wrap in wax paper, or dip in chocolate.

Store wrapped caramels at room temperature in an airtight container, where they will remain fresh for a little more than two weeks.

Now you can lick the spoon…absolutely heavenly!
---