Baked Pumpkin Spice Donuts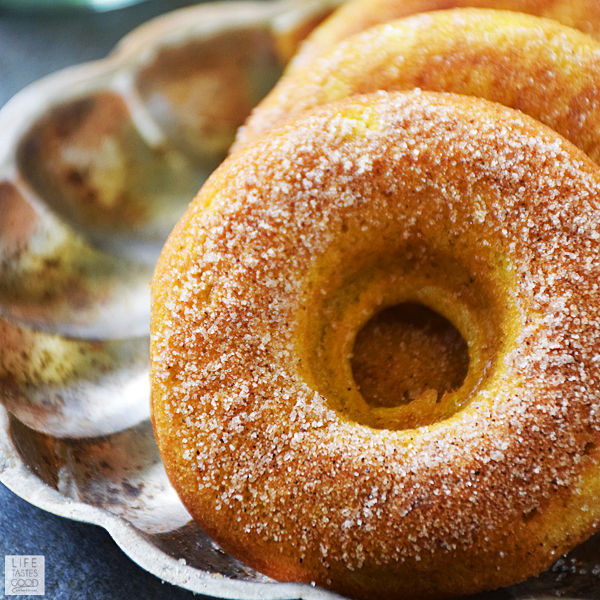 We love fall recipes. I recently purchased a donut pan and I have been trying different kinds of donuts out on my family and grandkids. I am a lucky grandma because I have 2 of my own children plus 6 grandkids that live close by me. I came across this recipe for Baked Pumpkin Spice Donuts. They taste just like fall and are baked not fried. They are so easy to make and delicious, moist and full of pumpkin spice flavor. If your family loves pumpkin you have to try these.
Ingredients
1 1/2 cups canned pumpkin puree (do not use pumpkin pie filling)
1/2 cup canola oil
3 large eggs
1 cup sugar
1 tsp cinnamon
1/2 tsp nutmeg
1/2 tsp allspice
1 3/4 cup flour
2 tsp baking powder
1/2 tsp salt
2 tsp vanilla
Cinnamon Sugar Topping
1 cup granulated sugar
2 tsp cinnamon
Instructions
Preheat the oven to 350°F. Lightly grease your donut pans.

Beat together the oil, eggs, sugar, pumpkin, spices, and salt until smooth.

Sift the flour and baking powder together and mix well.

Add the flour to the wet mixture, mixing on the lowest setting until just smooth.

You can use a ziplock bag and pipe the mixture into the donut pan, or just a spoon, which is what I use, and fill just barely to the top of each well.

Bake for 18 to 20 minutes, or until a tester inserted in the middle comes out clean.

While the donuts are baking, make the cinnamon sugar.

Place melted butter in one small bowl. Mix together cinnamon and sugar in another small bowl. Dip the top side of each donut quickly in bu tter, then in the cinnamon sugar.

Remove the pumpkin spice donuts from the oven. Allow the them to cool for a couple of minutes and put them on a wire rack to cool completely.

Dip each pumpkin spice donut in cinnamon sugar while still warm and serve.Enjoy!
---