Easy To Make Bread Cornucopia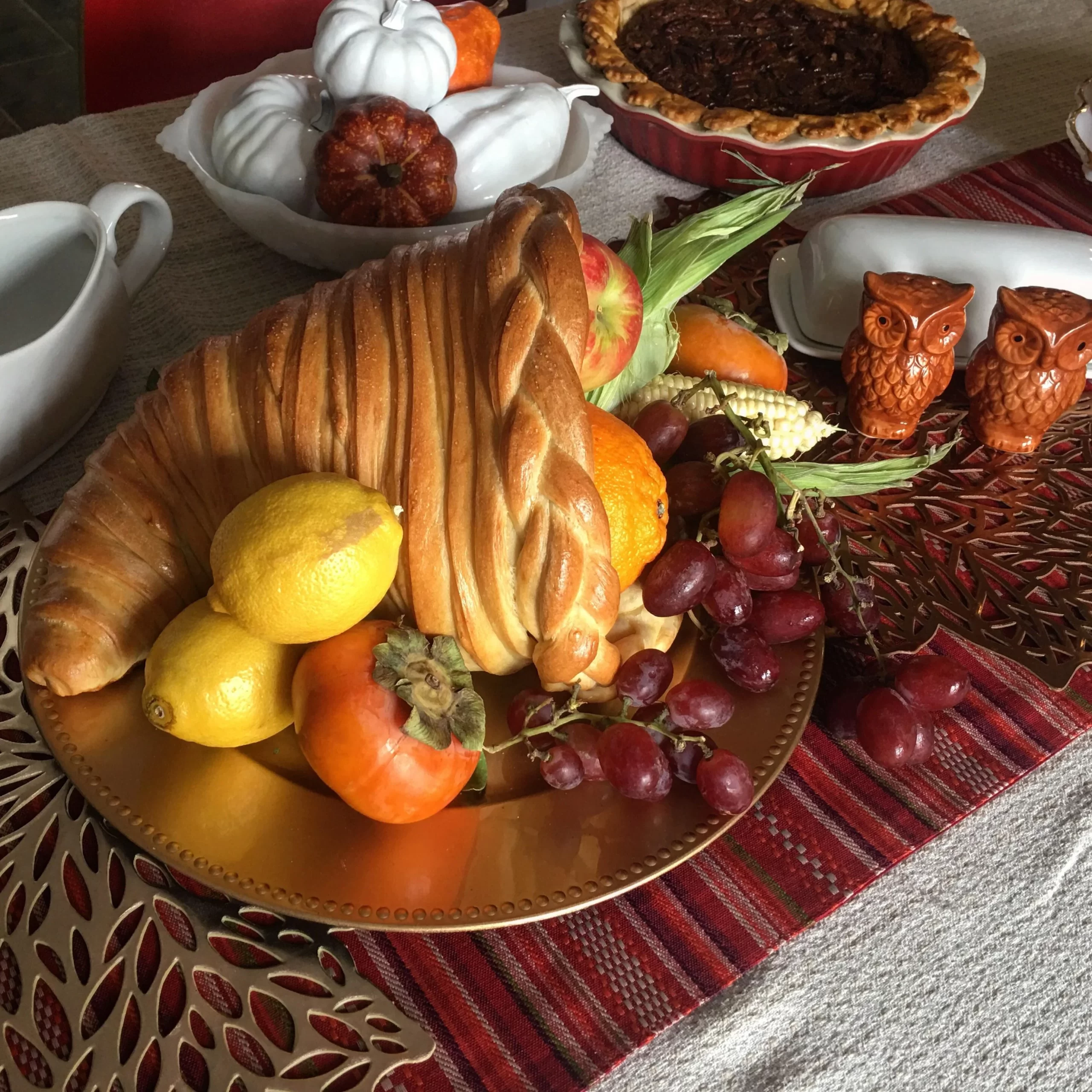 I have been making this bread cornucopia for many years. These past few years, I have not made it and it has been missed, so this year I am bringing it back.It was always a tradition to have a cornucopia on our table for the holidays, they are so fun to make! This Easy To Make Bread Cornucopia will impress your friends and guests as they gather around your table.A cornucopia (or "horn o' plenty") is a symbol of abundance, which was extremely important for the first settlers. It will make a stunning centerpiece for your Thanksgiving table.Make this centerpiece a New Tradition in your family, and stuff them savory breadsticks or dessert items.I hope you enjoy this seasonal, edible bread cornucopia on your holiday table. Our family wishes you a blessed Thanksgiving!
Equipment
Cooking spray

Baking Sheet

Aluminum foil
Ingredients
3 cans refrigerated soft breadstick dough
1 large egg
1 tbsp 1 tablespoon water
Instructions
INSTRUCTIONS
Heat oven to 350°F. Lightly coat a baking sheet, at least 17 by 14 inches, with nonstick spray.

To make form for Cornucopia: grab a water bottle and some aluminum foil.Tear off a 30 by 18-inch sheet of heavy-duty aluminum foil. Fold in half to 18 by 15 inch. Roll diagonally to form a hollow cone about 18 inches long with a diameter of 5 to 6 inches at wide end. Fasten end with tape. Stuff cone with crumpled regular foil until form is rigid. Bend tail of cone up. Spray outside of cone with nonstick spray. Place on baking sheet.

Once you have a sturdy foil mold, you can leave the bottle in to make the mold easier to work with, but be sure to remove the bottle before you pop it in the oven. Coat your mold liberally on all sides with non-stick cooking spray.Open and unroll 1 can of dough. Separate breadsticks. Gently roll with hands on your counter top until breadsticks are about 18 inches long. Begin by wrapping 1 breadstick around tip of cone. Tuck end under, then press on another breadstick. Continue spiral-wrapping cone, slightly overlapping dough, until there are 6 breadsticks left.

Pinch 1 end of each of 3 breadsticks together, then braid, attaching remaining 3 breadsticks to first 3 by pressing ends together. Continue to braid. Brush bread around opening of Cornucopia with glaze. Gently press on braid. Brush entire Cornucopia with glaze.

Brush your cornucopia with melted butter and bake at 350 F for 25 to 30 minutes on the lower rack, or until it turns a golden, shiny brown.

Remove from oven; let cool completely on baking sheet on a wire rack. Remove foil when cool and fill with your favorite Thanksgiving food.

WOW! A cornucopia made of bread, prepared for a Thanksgiving meal in 2005 for U.S. Navy personnel Jacksonville, Fla. (Nov. 22, 2005) – Culinary Specialist 2nd Class Linda Ostler prepares a cornucopia for the Thanksgiving meal at the galley on board Naval Air Station Jacksonville, Fla. U.S.
---