Traditional Hot Cross Buns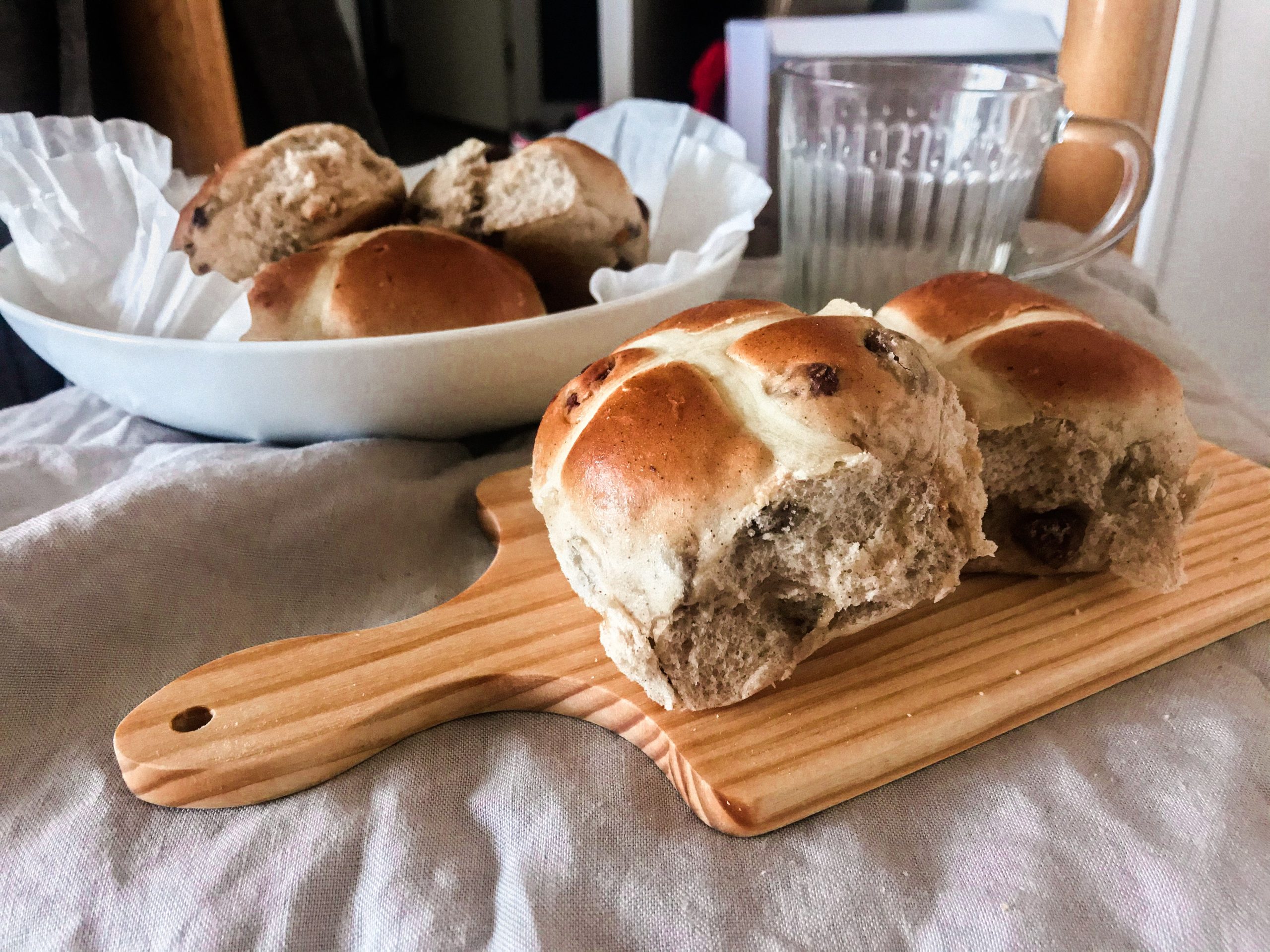 It's just not Easter without hot cross buns. Hot Cross Buns are delicious anyway you choose to enjoy them. These Traditional Hot Cross Buns are so easy to make, soft, fluffy and are so addictive. What is a hot cross bun made of?The buns are made of sweet, spiced, rich dough that bears similarities to brioche dough. The dough uses flour, yeast, sugar, eggs, milk, butter, cinnamon (and often other fragrant spices such as allspice and nutmeg,) raisins or currants, and sometimes candied fruit.I am not quite sure where and why hot cross buns became a thing, but a monk at St. Alban's Abbey in England named Brother Thomas Rodcliffe likely developed a similar recipe in the 14th century.His creation, called Alban Bun, was distributed to the poor people who lived around the abbey on the Friday before Easter starting in 1361.The first written mention of hot cross buns can be found in the 1773 Poor Robin's Almanac. INGREDIENTS FOR THE HOT CROSS BUNS RECIPE… Raisins…For extra plump and moist raisins, soak them in hot water for 5-10 minutes before using. Mixed candied fruit….. You can find candied fruit in your local grocery store.Hot Water….I always think of the temperature of bath water.Warm Milk…..do not get it too hot or it will kill the yeast.Quick Rise Yeast…Using quick rise yeast as opposed to regular yeast will cut the amount of rise time.White Granulated SugarAll-Purpose Flour…..I use unbleached but either is fine or all-purpose.Ground Cinnamon.Ground NutmegGround Ginger.Salt.EggsHeavy CreamButterI hope these will become a tradition at your house every Easter. Store-bought buns just can't compare to the homemade version!Ready to have your kitchen smell amazing?
Ingredients
Buns
CROSSES
1/2 cup  all-purpose flour
2 tbsp powdered sugar
1/4 cup  water plus 1 tablespoon
FROSTING
1/4 cup  powdered sugar
1 tsp  milk
Instructions
In a medium bowl whisk together 1 cup of flour with the sugar, yeast, cinnamon, salt, and nutmeg.

In another bowl beat together the milk, butter and eggs.

Add the flour/yeast mixture to the milk mixture and beat well.

Stir in the candied fruit and raisins.

Gradually stir in the remaining flour to make soft dough.

Turn dough out onto a floured surface and knead until dough is smooth.

Form the dough into a ball, cover and let rest for 15 minutes.

Grease a 9×13 inch baking dish. Set aside.

Place the dough on a lightly floured surface and divide it into 12 equal sized pieces.

Roll each piece into a ball and place it in the prepared baking dish.

Cover and and let stand in a warm area until doubled in size.

Preheat oven to 350F.

In a small bowl mix together the water, flour and powdered sugar for the crosses. Cut a corner off a sandwich bag and pipe a line down the length and width of the pan of buns to form crosses.

Bake for 30 – 35 minutes.

Mix together the powdered sugar and milk for the icing and brush it over the buns while they are hot from the oven.
---