Spooky Pizza Snake Calzone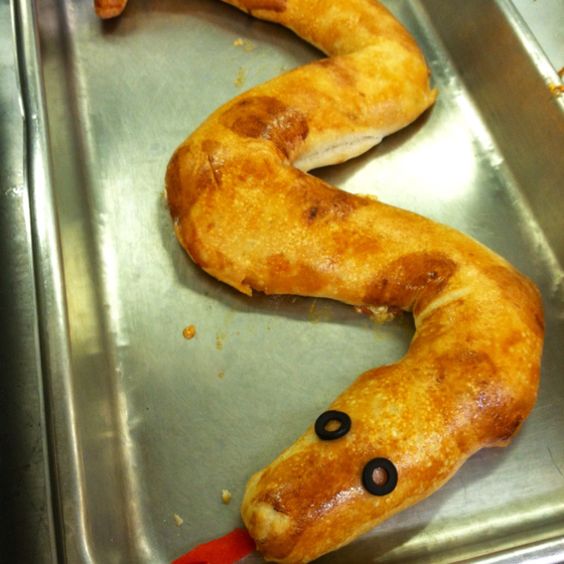 It is Halloween time and our family loves this time of year. I am starting to think about the recipes I want to make and this Spooky Pizza Snake Calzone is definitely one. I love this recipe!
This Spooky Pizza Snake Calzone makes a perfect addition to your Halloween Party Food table. Your family and friends will love this.
Baked into the shape of a snake, stuff it with your families favorite pizza toppings and lots of cheese.
This slithering Spooky Snake Calzone, is then sliced and dipped in marinara and is perfect for your next Halloween get-together. 
To make the snake's tongue use a red bell pepper cut up. The eyes are made using black olives.
This makes a fun meal before the kids go out "Trick Or Treating."
Scroll down and let's make one!
Happy Halloween!!
Ingredients
2 tbsp yeast
3 tbsp granulated sugar
2 1/2 cups warm water
1 tbsp salt
5 tbsp canola oil
5 1/2- 6 cups bread flour
PIZZA FILLING
1 (5oz.) pkg. of pepperoni, cut into quarters
1 (6oz.) pkg. of Canadian bacon, cut into quarters
1 (6.5 oz.) can of sliced olives
2 cups shredded mozzarella cheese, shredded
2 cups  marinara sauce
1 tsp onion powder
1 tsp garlic powder
1/2 tsp basil
Instructions
In a large bowl or mixer mix yeast, sugar, and 1/2 cup of warm water. Let stand for 5 minutes.

Add the salt, oil and three cups of flour and mix. Continue to add one cup at a time until the dough forms a ball and pulls away from the sides of the bowl. Let the dough rest for 5 minutes.
INSTRUCTIONS FOR FILLING
In a medium-sized bowl mix all the pizza ingredients together.
LET'S PUT IT TOGETHER
Pre-heat oven to 350 degrees.

Divide dough in half equally and roll one to 21 inches long and 5 inches wide with one end rounder than the other. The rounder end will be the head.

Divide the pizza filling in half and place it down the middle of the dough.

At the narrower end of the dough, fold both ends over tightly so that it forms a point for the tail.

Continue folding the sides over and sealing the seam by pinching it together.

 Fold the tip of snake over so that it meets the rest of the body of the snake. Pinch the seams together to seal.

 Gently roll the snake over and place it on a greased baking sheet in an "S" shape.

With a paring knife, cut two Xs where you want the eyes and place a sliced olive into each X. Cut an X where you want the tongue and place the red pepper strip into it.

Place it in the oven and bake for 30-40 minutes. Serve the snake with the remaining marinara sauce for dipping.
---