Soup Can Sandwiches…Perfect For Kids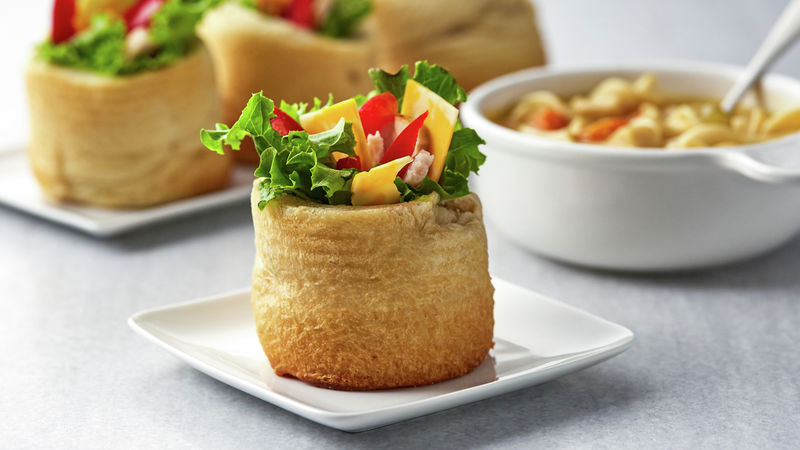 These Soup Can Sandwiches are the cutest! I found this recipe at
Tablespoon.com
and was so excited to share. My grandkids are going to love these!!
They are a great idea for sack lunches for kids, or picnics, and parties. I love how the cans make them stand upright and the fillings are endless.
Let me share with you five of the most popular sandwich fillings for everyday occasions you could use…
Cheese
Ham and cheese.
Ham salad
Sausage
Cheese and onion.
Egg mayonnaise.
You can use the soup in the cans to go with the sandwiches. Perfect lunch for your family.
Ingredients
INGREDIENTS
1 loaf Rhodes frozen bread dough
1 avacado peeled, pitted, and mashed
1/2 cup sliced red or green bell pepper (optional)
1/2 cup coarsely chopped lett
1/3 cup Creamy Basil Dressing
Instructions
INSTRUCTIONS
Thaw dough according to package directions (of course you can use homemade bread dough. Slice loaf into 3 equal sections and knead into balls. Generously spray the inside of 3 empty 18 oz. Progresso™ soup cans (wrappers removed) with cooking spray and place on a baking sheet.Place a dough ball in each soup can (it should take up about ⅓ – ½ of the can), cover with a kitchen cloth and let rise until bread starts to come out over the top of the can.

Preheat oven to 350-degrees. Place the cans on a baking sheet and bake for appx. 15-20 minutes or until the top of the bread becomes golden brown. Remove bread from cans; if it seems doughy, return to baking sheet (out of cans) and bake another 5 minutes. Cool bread completely on a cooling rack.

Slice the domed top off each piece of bread. Use your fingers to remove the middle of the bread. Use your fingers to push the bread to the edges so you end up with a hollow cavity.

Spread mashed avocado around the inside of each bread cylinder** and line with sliced cheeses. Combine remaining ingredients in a large bowl and toss to coat evenly with dressing. Fill each bread cylinder with the mixture– pressing the mixture down a little bit to get a nice filling.

If you aren't going to eat the sandwich right away or if you are making them for lunchboxes, line with cheese first, so the bread doesn't get soggy.

Serve additional Basil sauce on the side for drizzling as desired.
---