Peanut Butter Eggs For Easter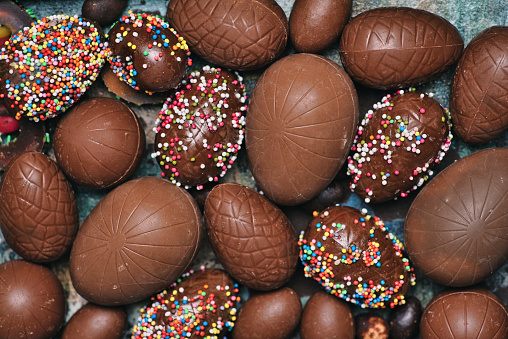 I filled lots of eggs for the grandkids today. I love Easter and we will all be ready to go to church first in the morning to celebrate the real reason we celebrate this holiday.
I remember once we went out to a big farm around this time. The kids got to gather so many eggs and then a plane flew over and dropped more eggs and the Easter Bunny was in the plane. There were games and lots of hamburgers and hot dogs to enjoy. It was a memorable occasion!
Chocolate and peanut butter is match made in heaven. Make your own Reese's peanut butter eggs and surprise your family when you add one to their Easter Baskets. 
These treats are so easy to make and taste even better than the store-bought ones! 
INGREDIENTS YOU WILL NEED…..
Peanut Butter…..Creamy
Butter
Brown Sugar..light or dark
Powdered Sugar……
Salt…just a pinch
Chocolate Chip…..Milk chocolate
Egg Cookie Cutter
Ingredients
Instructions
Line an 8 X 8 inch dish with Parchment paper.

In a medium bowl, stir together the peanut butter, melted butter, brown sugar and pinch of salt, until well combined.  Add the powdered sugar a little at a time, mixing well between additions.

Using an egg shaped cookie cutter, cut out the peanut butter eggs, and place them on the Parchment lined cookie sheet.

Melt the chocolate in the microwave, and line an additional cookie sheet with Parchment paper.  When the chocolate is melted, dip the eggs into the chocolate, on both sides, using a large spoon to gently hold the egg.  Lay the eggs on the newly lined cookie sheet, and drizzle a little more chocolate from the end of the spoon, Immediately drop sprinkles over the chocolate if desired.

Store the eggs in the refrigerator or freezer until time to serve.  Enjoy!
---