Learn How To Make Homemade Croutons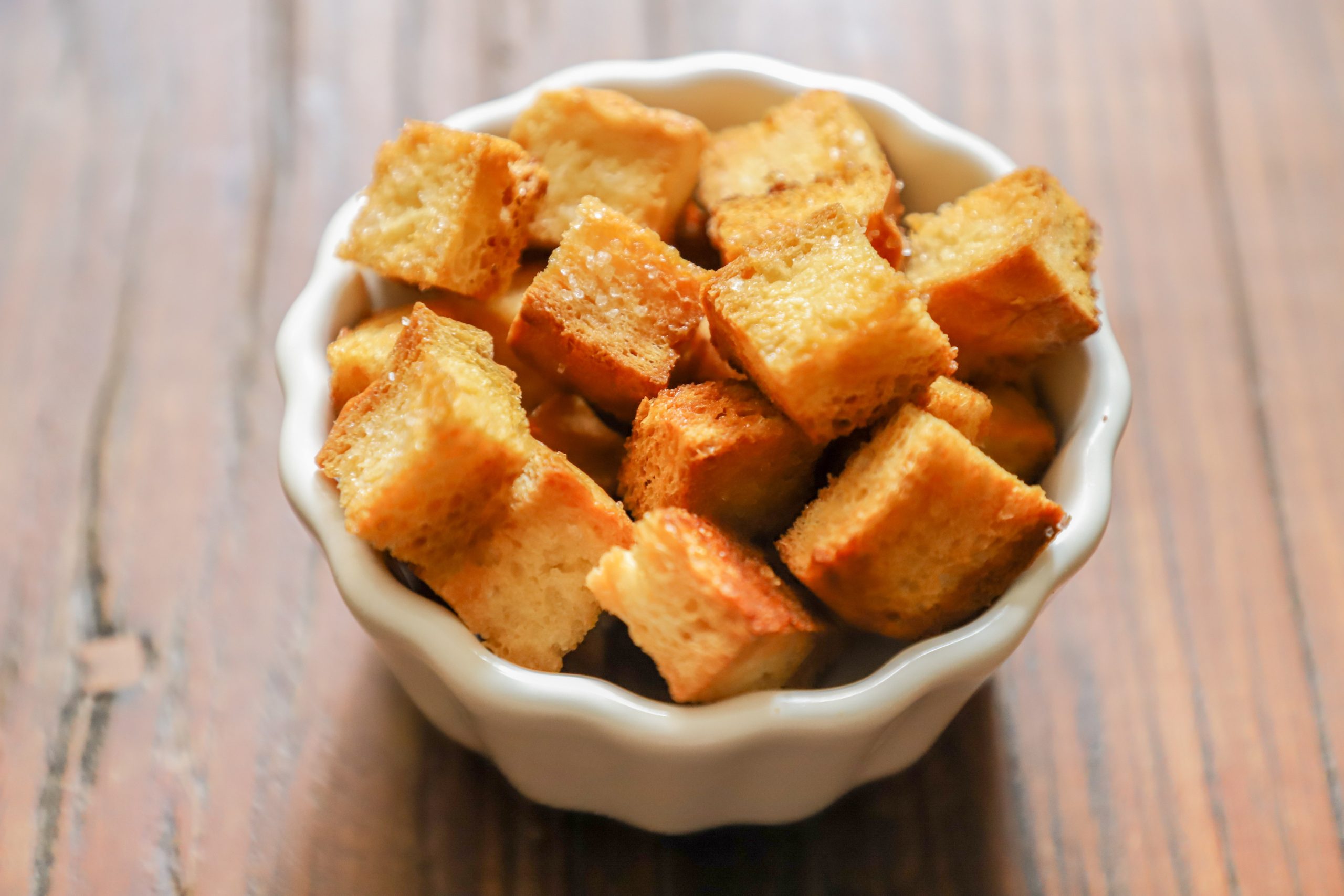 I use to work in the school systems in the cafeteria as a cook. I was in charge of cooking croutons and the hot main dish every day. When I made these wonderful garlicky croutons the smell went through the whole school and the teachers would come running.I set out little paper cups and they would loved them filled with hot croutons. I loved to make their day!This is the perfect way to use up stale bread just sitting on your counter and it only takes about 15 minutes. The Best Bread to use for Homemade Croutons:French BreadSourdough BaguetteEnglish MuffinsThese taste way better than the ones out of the package any day.There are many ways to add flavor to croutons like the ones below….More garlic powder…if you love garlic add more garlic powder.More Italian seasoning…if you are making them Italian just add more Italian Seasoning for ore flavor.Use fresh herbs… basil,  thyme, rosemary, sage, oregano, parsley.Longer baking time…stir them frequently and I bake them longer for a crispier crouton.Bread….Make sure to use a stale bread, cubed into 3/4-inch squares.We like to eat them in a bowl just like popcorn. SOOOOOO DELICIOUS and ADDICTING!!Have you ever made croutons? It only takes a few minutes to make homemade croutons with garlic butter grab your apron and lets get cooking.
Ingredients
INGREDIENTS
2 cups  cubed or torn bread
3 tbsp  olive oil
3 tbsp butter
1/4 tsp dried herbs (your choice…..basil,  thyme, rosemary, sage, oregano, parsley and garlic)
1/8 tsp salt
Instructions
INSTRUCTIONS
Using a pizza cutter, cut each bread slice into cubes. Place these in a large bowl.Dump remaining ingredients into a measuring cup. Stir. Pour onto bread cubes. Stir with rubber spatula to evenly coat with the buttery/oil mixture.

Mix well and taste one to see if it is seasoned to your liking, herbs as necessary.
---