Holiday Rudolph Cheese Ball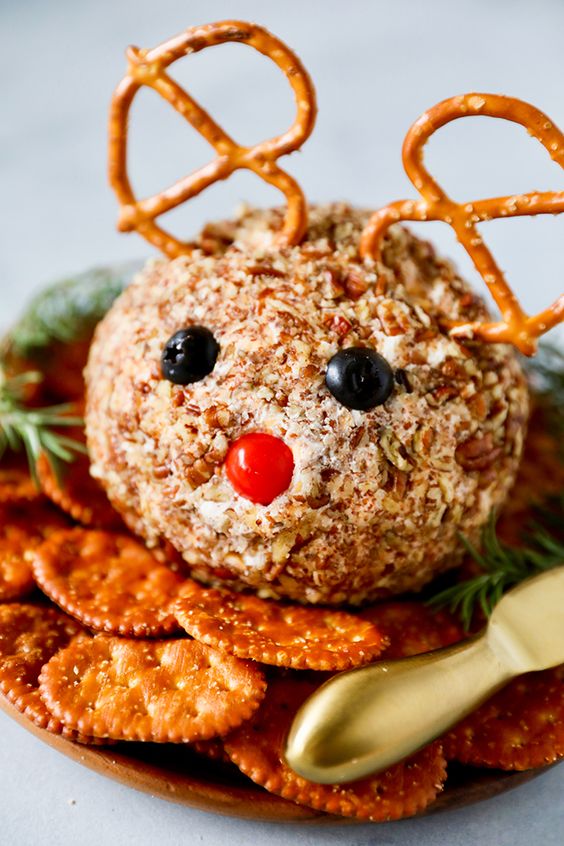 I know I'm in love with cheese balls especially through the holidays. Why? Because you can make them into just about anything. You just need a cheese ball on the table during Thanksgiving or Christmas. You can serve your cheese balls with any kind of cracker you like. (We like Ritz) I also add a few cut up vegetables, like celery sticks, carrots, and broccoli florets.A cheese ball is a ball of soft cheese mixed with seasonings and covered in chopped pecans or walnuts. You can buy them in the store already made but they are so much better homemade. Cream cheese is a must to make a good cheese ball, it's what holds the other ingredients together. You can mix any other cheeses with cream cheese for different varieties.When making a classic cheese ball, you can make it in different shapes like this Rudolph one.This might look pretty fancy, but it is so easy to make.  It takes just a few ingredients to create this classic Rudolph holiday cheese ball. It is incredibly delicious, and a big hit for all your Christmas festivities.Let's get started…
Ingredients
INGREDIENTS
2 8 oz blocks of cream cheese at room temperature
3 1/2 cups  sharp cheddar cheese at room temperature
1 oz  package ranch seasoning mix
1 1/2 cups crushed pecans
2  black olives
1 cherry tomato
2 original sized pretzels
Instructions
INSTRUCTIONS
Let cream cheese and sharp cheddar come to room temperature. In the bowl of a stand mixer fitted with a paddle attachment, combine cream cheese, cheddar cheese and ranch dressing mix.

Transfer cheese mixture to a sheet of plastic wrap and use plastic to form cheese mixture into a ball. Refrigerate for at least 4 hours, or overnight.

Right before serving, press crushed pecans into cheese ball. Place on a serving plate. Slice the tips off of two black olives and one cherry tomato. Use toothpicks to secure to cheese ball. Add pretzels for antlers and serve. 

ENJOY!!
Notes
Cheese Ball and be mixed and refrigerated up to three days before. Add pecans and Rudolph decorations right before serving. 
---