Cupid's Pink Hot Chocolate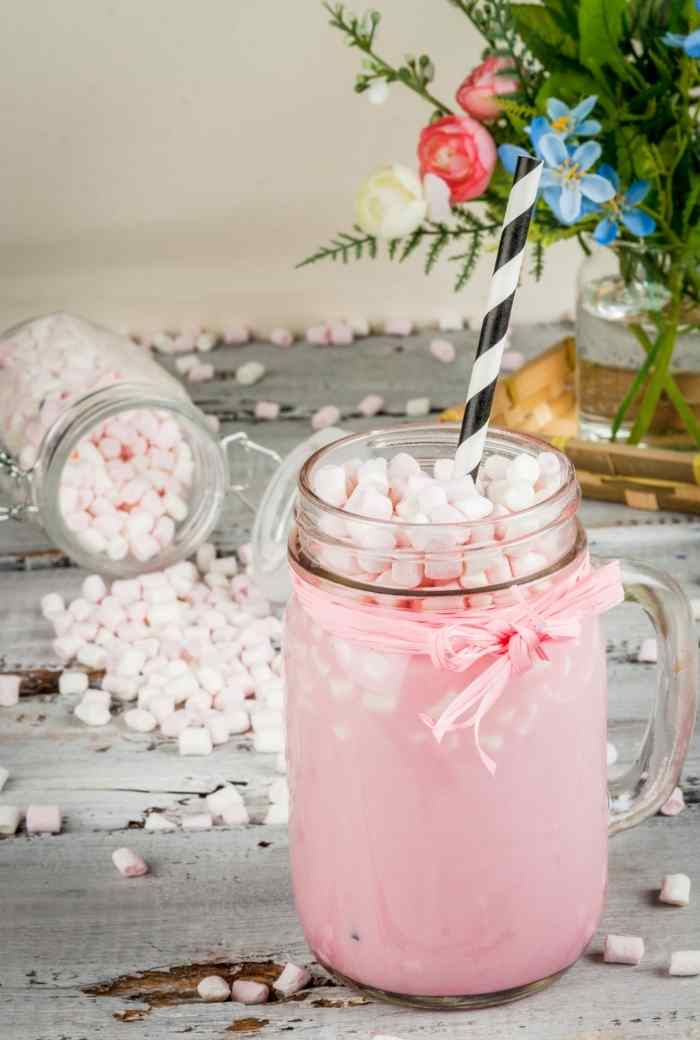 I was in Hobby Lobby the other day and I was looking at all the Valentine's decor and I realized that Valentine's Day is right around the corner.
With that in mind I started looking at my recipes for red and white everything to celebrate this holiday of love. Today I am sharing a delicious recipe for Cupid's Homemade White Hot Chocolate.
It is a easy and yummy treat for the whole family! Right now as I look out my window it is snowing. We are suppose to have 3 inches by nooon. When cold weather hits it is time for hot drinks. A recipe for Cupid's Hot Chocolate is a festive way to warm up.
Have you ever thought about setting up a cute little bar and line up toppings in cute little Valentine dishes and let your family come and enjoy this special treat. Valentine's Day should include all family members.
Here is a fun video on 
how to make your own hot chocolate bar.
If you are wondering about toppings here are a few favorites that work with this recipe….
Whipped cream
Mini chocolate chips or white chocolate chips
Mini marshmallows
Strawberry syrup drizzle
Chocolate dipped spoons
Chocolate drizzle
All you need a few simple ingredients and a few minutes to whip up a batch of this decadent pink hot cocoa.
Ingredients
1 Red Gel food coloring (just a couple of drops)
1  Pink sprinkles
1/8 tsp  Salt
1 tsp  Vanilla
2 cups  White chocolate chips, good quality
3/4 cup evaporated milk
5 cups whole milk
Instructions
In a saucepan over medium heat, bring your evaporated milk and whole milk to a boil. Watch it so you do not scald the milk.

Remove the saucepan from heat and add in the white chocolate chips. Stir until all of the white chocolate has melted. (choose a good brand of chips)

Slowly add a drop of red food coloring gel until you get a nice soft pink color.

ENJOY!!
---