Creamy Pineapple Fluff Salad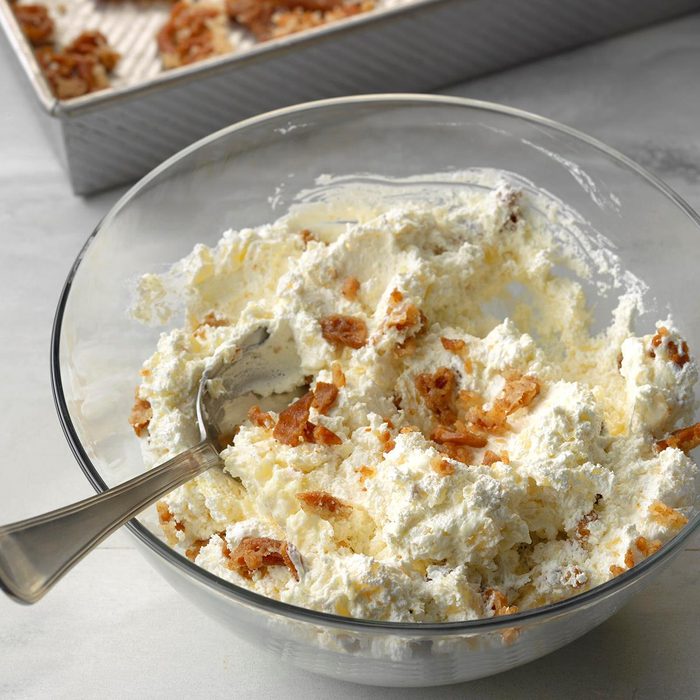 The tulips are coming up and I am looking forward to warmer weather. Easter is coming soon and it is the perfect time to share this recipe for Creamy Pineapple Pretzel Salad. People will ask for the recipe because it is so creamy and delicious!A fluff is considered a dessert 'salad'. It's smooth, creamy, and served chilled. It almost always involves a sweetened whipped topping base that's studded with a fruit flavoring & actual pieces of fruit. There's also typically a crunchy or savory element. Either pretzels or nuts.A lot of fluff recipes also call for the addition of marshmallows. INGREDIENTS NEEDED TO MAKE THIS FLUFF SALAD RECIPE:1 20 ounce can crushed pineapple drained cream cheese, softened1 14 ounce can Eagle Brand sweetened condensed milk fresh lemon juice1 9 ounce cool whip1 cup chopped pecansmulticolored miniature marshmallowmaraschino cherriesJust make it once, and you will make it it again and again. So give it a try. I hope you enjoy this recipe! 
Ingredients
1 pkg cream cheese, softened (8 ounces)
1 can sweetened condensed milk (14 ounces)
1/4 cup lemon juice
2 cans (20 ounces) pineapple tidbits, drained well so your salad will not be runny.
1/1/2 cups multicolored miniature marshmallows, divided
1 carton (8 ounces) frozen whipped topping, thawed
1/2 cup chopped pecans
1/3 cup chopped maraschino cherries, chopped
Instructions
In a large bowl, beat the cream cheese, milk and lemon juice until smooth. Add pineapple and 1 cup marshmallows; fold in whipped topping. Sprinkle with the nuts, cherries and remaining marshmallows.

Refrigerate leftovers.
---