Autumn Bread….a Fall Treat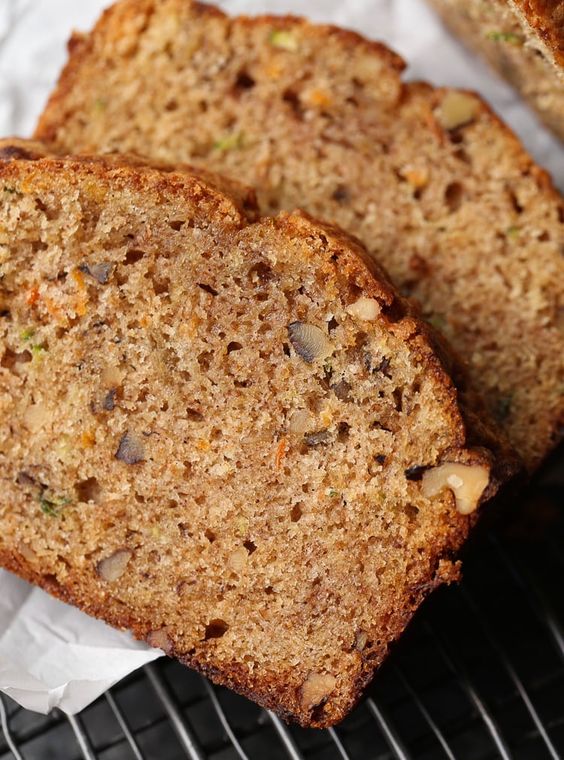 I recently made this Homemade Autumn Bread and what a treat it was. It is a yummy way to welcome fall. Homemade Autumn Bread is an easy, no-fail quick bread. It is like eating Zucchini, Carrot and Banana bread all in one.
It is so sweet and delicious, your family will not believe it has all these veggies in it. Make several loafs to pass out to neighbors and friends to welcome fall.
Add this recipe to your fall treats.
Ingredients
2 cups sugar
3 large eggs
1 cup canola oil
2 tsp vanilla (I would add 4 tsp of vanilla to bring out more flavor.)
1 tsp cinnamon
1 tsp salt
1 tsp baking powder
2 cups flour
1 cup whole wheat flour
Produce
1 cup grated zuchinni
1/2 cup grated carrots
1/2 cup mashed banana
3/4 cup walnuts
Instructions
Preheat oven to 375°F. Coat 2, 9×5 pans with nonstick spay. Set aside.

In a large bowl stir together the sugar, oil, eggs, vanilla, cinnamon, salt, baking soda, and baking powder until smooth.

Next stir in both flours until just combined. Finally stir in the zucchini, carrots, banana, and walnuts until combined.

Divide the batter between the 2 pans.

Bake for 50-60 minutes or until a toothpick inserted into the center comes out clean.

Allow to cool in the pan for 5-10 minutes 

Adapted from Cookies and Cups.
---