A New Family Favorite..Roasted Honey Sweet Potatoes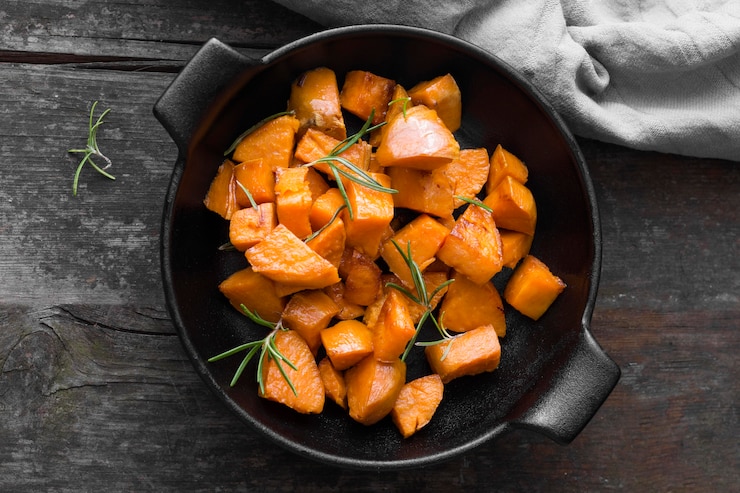 Another year has flown by and it is almost Thanksgiving time. When we lived at the farm we had family and friends over and people who had no place to go. One year I invited a cute little lady I took care of at a nursing home. She was so excited and that is what the holiday season is about giving to others.
I know Turkeys are so expensive this year!! I found one at Walmart today for 99 cents a pound. Every where else is at $1.58 a pound for a turkey or more!!
What do you serve with your turkey dinner? We do mounds of fluffy potatoes and of course turkey gravy? ( I always add a teaspoon or two of Better than Chicken Bullion to the gravy.)
We also make Roasted Honey Sweet Potatoes, Grandma's Stuffing, ( I will be adding that recipe soon) fresh green beans, homemade rolls, fruit bowl, homemade cranberry sauce and of course pumpkin pie or pumpkin roll.
I have never been a sweet potato person but these Roasted Honey Sweet Potatoes
will make you come back for seconds! They will become a family favorite for years.
Ingredients you will need…
SWEET POTATOES….medium-sized sweet potatoes.
OLIVE OIL…extra virgin is best.
BUTTER…unsalted
LEMON…use the juice of one lemon plus the zest. DELICIOUS!!
Honey…..don't use cheap honey. We get ours from a bee keeper every year it is the best!
CINNAMON AND NUTMEG…Sprinkle the sweet potatoes with a dash of nutmeg or cinnamon.
SALT…sea salt if you have it.
You might enjoy these recipes….
Candied Sweet Potatoes….via
Simply Stacie.
Crock Pot Sweet Potato Casserole….via
Dinner at the Zoo.
Add these delicious Roasted Sweet Potatoes to your Thanksgiving dinner this year. These sweet potatoes are a mouth-watering side dish that you can make all year long.
Enjoy!
Ingredients
Instructions
INSTRUCTIONS
Preheat oven to 425 degrees F. Line a baking sheet with parchment paper.

Place the sweet potatoes on the baking sheet, using two baking sheets if needed to fit all of the sweet potatoes.

In a small bowl, whisk together the olive oil, honey, cinnamon, salt and pepper. Pour over the sweet potatoes and toss to coat.

Roast sweet potatoes in the oven for 20 minutes, then flip them over and roast for another 15-20 minutes or until they are nice and soft. They should start to turn golden and caramelize around the edges.

Adapted from Cheerful Cook.
---